Class 4: Structure and Deterioration of Multimedia Materials
Photographic Film—Still and Motion Picture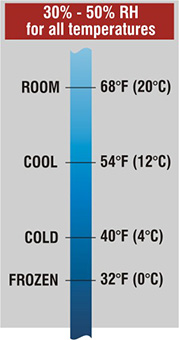 The four temperature categories. In this context, ROOM, COOL, and COLD are characterized by one "anchor-point" temperature. FROZEN applies to temperatures of 32°F (0°C) and below.
Courtesy of Image Permanence Institute
To download 72dpi photo, right-click or control-click on the photo
and select "save link..." or "download link..."