Class 8: Treatment Options
Before and After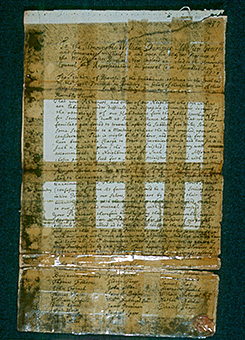 1727 petition to Governor Dummer of Massachusetts, before treatment. A well-meaning but misguided person applied self-adhesive tape to both sides of the document in an attempt to mend tears and stabilize it overall. Self-adhesive tapes should never be applied to materials of lasting value.
Courtesy of Massachusetts Archives
To download 72dpi photo, right-click or control-click on the photo
and select "save link..." or "download link..."