Missing your NEDCC FRiends and colleagues (and their pets)?
Let's see what everyone is up to . . .
Note: For best results, when playing an audio clip, pause or finish one clip before starting a new one!
[Click any image to run as a slideshow.]
---
Bill:
NEDCC reopens on 5/19/20. It's been a long haul. Free at last!
---
Tahe:
I've been enjoying the avian activity at our feeder with lots of Carolina Chickadees, House Finches, Titmouses (Titmice?), and Cardinals.
Lately, I've been seeing this poor little dude with his bald head and faded red feathers flitting about the feeder. Despite his appearance, he's a feisty one so we named him
Ming the Merciless after the villain from Flash Gordon.
---
Ann Marie:
People in my neighborhood have posted rainbows and hearts in their windows to cheer folks as they pass by. Bodhi helped us hang some hearts this weekend.
---
Julie:
Saturday, May 9, 2020 in Maine.


(I spoke too soon about putting the snowshoes away!)


. . . but by Sunday, May 10, the green grass reappears. By Monday, the 11th, it's just your ordinary snow mowing.
---
Bill:
New situation room (weather permitting).
---
David Gerratt and Michael Snow:
We are sending a great big THANK you to NEDCC's graphic designer David Gerratt and our website programmer Michael Snow. They are the indispensable, behind-the-scenes team that has kept our web presence up and running since 2005. David has a deep understanding of our work and it shows in his design aesthetic. (A bit of history - David: My dad was a letterpress operator but I learned to operate his linotype at the age of 15 and for a short bit was his only operator. For a few months in my senior year of high school, I went to work with him at 6am, ran the linotype for a few hours and then got to school in time for 9:50 home room.)
David is working as usual right now at his home office, but in his spare time, he is a talented musician and founder of "Fugitive Productions," organizing music, comedy, and storytelling events in the Boston area. Thank you to David!
Michael Snow, the expert programmer who works with David, has seen us through 3 website revamps and saved us from several hacking attempts. He works closely with Preservation Services, making possible their complicated shopping cart functions and other resources. THANK you, Michael!
---
Amelia:
Here is a hodgepodge of scenes from a quarantine.
Few tulips survived the rabbits that have recently reentered our neighborhood. These bulbs ostensibly grow in gavel so perhaps that hardiness also makes the blooms harder to nibble.
Magnus does his schoolwork on paper and we email his teacher a photo. Gustav's schoolwork is largely online but he is happiest with his Anatomy & Physiology textbook.
Barry has taken up cross-stitch and designed a snarky phrase that is nearly complete.
Five years ago and across the street, I found a wobbly rocking chair with a broken caned seat and tossed it in the basement. It was recently dug out, its joints re-glued, a new seat support added, and paint removal is in progress. Decisions are slow going regarding paint, oiling, shaker tape, upholstery, and/or paper cord.
As May the Forth approached, porgs became topical and I spent one evening needle-felting a critter.
---
Jonathan:
Summiting Mount Monadnock on my birthday.
---
Terra:
I finally completed this embroidery I designed for my friend's birthday! It's my first embroidery so it took much longer than I expected, but I'm very happy with the results. I hand-dyed the fabric and painted the embroidery hoop as well. I'm already excitedly planning my next project!
---
Bexx:
Picking dandelions from our yard for use in tea and dandelion infused oil. The oil can be used to make a salve that is great for achy muscles!
---
David:
I want to share these cyanotype images I made near the Ipswich river over the weekend. Spring has sprung!


---
Bill:
This critter was outside my kitchen window this morning. I only "shot" him with my camera phone, though. No possum stew tonight.
---
Amelia:
My Grandma Dorothy's 96-year-old, and oldest, sister recently misplaced her address book. It was surprising since she is literally in lockdown in a North Dakota assisted living facility. My grandma was going to cut our daily chat short the other night to write down family phone numbers for Betty. This project is the result of my promise to send those phone numbers for her.
I sacrificed one of my last remaining pre-cut parchment paper baking liners to make a semi-protective later. Ink jet printing is incredibly water-soluble and would not withstand even the smallest spill. I also don't like the read through of the 20lb. paper. It isn't ideal but this little pamphlet will be good enough. If there is one thing I know for sure, kids who grew up in the Dirty Thirty's in the North Dakota dust bowl certainly know how to make do.
---
Julie:
Do you think this means . . . . . . that I can put these away now?
---
Jeneen:
Dog park fun with V and C. Beautiful Saturday!
---
Monique:
My assistant fell asleep on the job . . . again!
---
Luana Maekawa:
What a miserable day outside! We just had our first zoom meeting with the Paper lab, and that certainly brightened my afternoon! --And on that note here are photos of happy signs of Spring from my garden, finally!
---
Mary French:
Here are the face masks that I made for NEDCC staff to wear when we're able to go back to work. They're easier to do in a batch rather than one at a time, but I may have gotten carried away here . . .
---
Terra Huber:
I made this cut paper card for my Grandma's 90th birthday! I used an 18th or 19th century endsheet marbled in a blue schottel pattern for my fish design. She's a Pisces and a painter who has made a lot of fish-themed artwork throughout her life. She loves it!
---
Mary French:
Masks in process for NEDCC's staff for someday re-opening.
---
Bill Veillette:
While hiking last weekend, I rewrote the lyrics to a bluegrass song to "suit the times" and recruited Kiyoshi and Karl to help perform it. It's called "I Don't Cairn Anymore" and is performed by the At Home Ramblers. We did this all from a distance (Lee, NH; Amherst, NH; Haverhill, MA) to stay at-home compliant. Here are the liner notes:
Kiyoshi – ukulele, banjo, guitar, bass
Karl – mandolin
Bill – singer/songwriter
Engineered by: Karl
Photos by: Frank, Ann Marie, Lisa
LISTEN:
---
Karl Fleck:
Here's a photo of our cat, Jeff. She loves the guitar case. I guess it's pretty cozy! If I were her size, I'd do the same.
---
Lisa Muccigrosso:
Text blocks being pressed in my makeshift press, and a signature being punched in a collapsible punching trough (instructions here ), using an excise tax envelope as a jig.
---
Tahe:
Over the holiday weekend I decided to divide up the random clusters of liriope and use them to create a border. I also added some pretty ground covering plants that will spread over time. It only took me 20 years to do it.
---
Bexx:
All the puzzles!
---
Jonathan:
Our late, beloved coworker Gayton Osgood told me about this historical marker years ago. We finally found it on a recent drive through Georgetown. Hoping for better luck that my forebear . . .
Contemplating eternity at the Lowell Cemetery during the COVID shutdown. Happy Spring!
---
Julie:
Tool shed reorganization - before and after 'treatment.'
---
Monique:
Tulips before the snow tonight!
---
Sean:
Hello from DC! Just finished our first of many puzzles.
---
Tahe:
Archer and I are a small part of the PPEople Brigade which makes face shields for workers at medical facilities. The PPEople Brigade was started by my friend Paige Cox. As of April 9th, over 8200 shields have been made. www.PPEoplebrigade.com.
---
Julie:
We are all looking forward to some warm sun this Sunday. Here are my sister's dogs, Ruby and Maple, soaking up some rays.
---
Jess:
This is apparently what my brain comes up with when I'm doodling on my iPad instead of doing what I 'should' be doing.
---
David:
Here is an image I worked on during lock down. I ran out of drawing materials so I used recycled cardboard. Not archival but it works!
---
Katie:
Here's a quick photo of the beginning stages of two pet embroidery projects. I'm combining some some stitching techniques and fabric to see what the resultant textures are. Pasqualino is the inspiration for the smaller hoop that hasn't got more than an outline yet--I'm really interested to see how the stitches I'm going to use for his fur look against the gold and repetitive nature of the pattern!
---
Caroline:
Summer encounters two corgi friends on one of the (many) walks walks she takes each day.
---
Bryce:
Built some cold frames out of scrap wood (including old Ikea book shelves) and successfully avoided a trip the the hardware store! My arm is still sore days later from sawing. The neighbor offered their circular saw but I've never used one before and was too afraid I'd end up in the hospital if I tried.
Started some seeds inside. The arugula shot right up!
Because I know what people really want:
MORE RUTH!
---
Ann Marie:
My mother-in-law made us masks – this season's hottest fashion item. (We are smiling under there!)
---
Luana:
Today was Pasqualino's 14th birthday! He is always ready to go outside. The third photo is an exhausted Pasqualino following frolicking and partying!
---
Julie:
Yes, spring comes slowly to Maine . . . but it makes it all the more exciting.
---
Bexx:
Painting my home office!
---
Julia Hawkins:
I decided to try making sushi for an unconventional Easter dinner. It didn't fall apart and was pretty tasty!
---
Ann Marie:
My partner and I agreed to record a version of Morning Has Broken for our church's Easter Service. Not bad for four takes!
LISTEN:
Karuna and Bodhi greet the day.


---
Amelia Sorensen:
Our Swedish Maundy Thursday celebration was rather brief due to the quarantine (and one child inexplicably running into a metal pole). But we did throw freckles on the kids and sent them to the backdoor as little vagabonds in search of treats. The third picture is from parties past. The general idea of modern Blåkula and Skärtorsdagen is that children trick-or-treat while dressed like Easter witches adorned with kerchiefs and freckles, dyed eggs are hung from still bare trees, and branches are tipped with colorful feathers. It is a joyful hoot.
From a party past . . .
---
Jess:
I've been enjoying watching the swans on the pond by my house, but it's hard to take them seriously when they do this!
---
Julie:
Update... Well, we achieved "Ice Out."
Ay-yuh
---
Michael:
My Granddaughter Olivia sent me her artwork to brighten my day and to make sure I was staying safe and well. She and Murphy have a talk.
---
Terrance:
These are a couple of photographs from a hike up Mt. Toby in Central Massachusetts. A long-abandoned structure on the way up, and long shadows on the way down.
---
Mary:
Since I've been home, I've been on a sourdough bread baking kick. Here's the latest loaf - an olive, lemon zest, fresh thyme, and pecan sourdough.
---
Julie:
We witnessed the beginnings of the annual phenomenon, called "Ice Out" in our lake in Maine. (There is a town-wide betting pool on the exact date of Ice Out each year. Now complicated by the forecast of 7 inches of snow Thursday-Friday. ack)
Also this - a sign posted by the Norway Maine Police Department.
---
Monique:
Signs of spring in our urban garden.
---
Bill: [Editor's Note: NEDCC's Executive Director has spent the weekend at-the-ready to apply for the Center's Payroll Protection Program (PPP) the minute our bank's portal opens.]
Been watchin' D. Ray White on YouTube (God rest his soul) and decided there's nothin' better than dancin' this weekend while a-waitin' on the bank to start accepting PPP loan applications. If'n them bankers don't come through, the corn in the jar is my back-up plan. (Background song: "Little Liza Jane" by Fiddlin' Mutt Poston)
LISTEN:
---
Julie:
We went outside!
---
Kiyoshi:
An original song for the times . . . "Just Not Too Closer Walk With Thee."
LISTEN:
---
Audrey:
Springtime in my basement. Seeds are finally sprouting.
Also, my 11 year old's proposed schedule for the quarantine. I guess I haven't instilled much of a work ethic!
---
Karl:
Here's some ipod audio of me playing an abbreviated version of 'Sunflower River Blues' by John Fahey.
LISTEN:
---
Suzanne:
I just finished sewing a mask for my daughter in Brooklyn. One down and three to go!
---
Caroline:
Summer the dog is getting lots of extra walks, as it's a good excuse to go outside. She is happy with the situation. The cats are also enjoying the extra attention, though they don't show it as much.
---
Jess:
I'm using my time to improve my sourdough bread baking skills , but I'm not sure my housemates and I can eat it as fast as I can bake it! Looking forward to being able to share with everyone in the NEDCC break room.
---
Bexx:
Daniel Tiger helping me with a puzzle.
---
Terrance:
Here is a photo of my vintage copy of Roderick Hudson by Henry James, which I just finished. Also, I take pictures of lovely passages as I find them (as a matter of course) and one is attached that has a contagion metaphor that I didn't fully appreciate until rereading just now. Also, Rufus and Vivian hanging out in their newly refurbished DIY cat tree.
---
Bryce:
Mary, I see your chocolate chip cookies made with bunny butter, and I raise you: brownies made with Easter lamb butter :) (See Mary's post below.)
---
Luana:
Pasqualino peeks.
---
Tahe:
Taking advantage of the beautiful spring weather while my security detail (Enzo) monitors the sidewalk activity.
Variation on the Exhausted Pet Theme - Enzo:
---
Ann Marie:
The black cat is Bohdi and the calico is Karuna.
(Looks like we are totally exhausting our pets by being at home!!)
---
Monique:
Cleo has another hard day at the office . . .
---
Becky:
Here's Benjamin practicing his extreme poses and keeping me entertained!
---
Julie heard from former NEDCC paper conservator Claire Grund - who is now working in the nursing profession. ♥
I sent her the link to this page so she can check in with everyone. Claire: "Awwww, that just made my day :) When all this craziness is over, I want to come say hello to everyone. Much love to all!"
---
Mary:
Just thought I'd send you a couple of photos of what I've been up to while at home. As is the case across the country, there have been food shortages and butter has been particularly hard to find. Luckily, it's nearly Easter and bunny-shaped butter sculptures are an adorable solution for when plain old sticks of butter are nowhere to be found. This bunny ended up being turned into a salted brown butter chocolate chip cookie.
---
Luana:
With Pasqualino, sitting in front of the fire.
---
Jess:
Busman's Holiday - My home workbench getting used for its intended purpose!
---
Jeneen:
Here are our two sillies, Viper (the greyhound) and Corona (poor guy is NOT a virus!), the Pitti mix. They entertain during the lock-in.
---
Bryce:
Meet Ruth.
She gets the chair while I sit on the floor to do my work. :)
---
Kiyoshi:
Bee hive is still dressed for the winter but the bees are flying around and bringing pollen home from, I don't know where.
---
Jeneen:
Jeneen wins first place in the Methuen Team Trivia Facebook Group!
Congrats!!
---
Bill:
Bill institutes the Staff Communication emails and sends a photo of family member Stackolee. Then when Ola Belle felt left out, a photo of both. Also a shot of Bill's 'Situation Room.'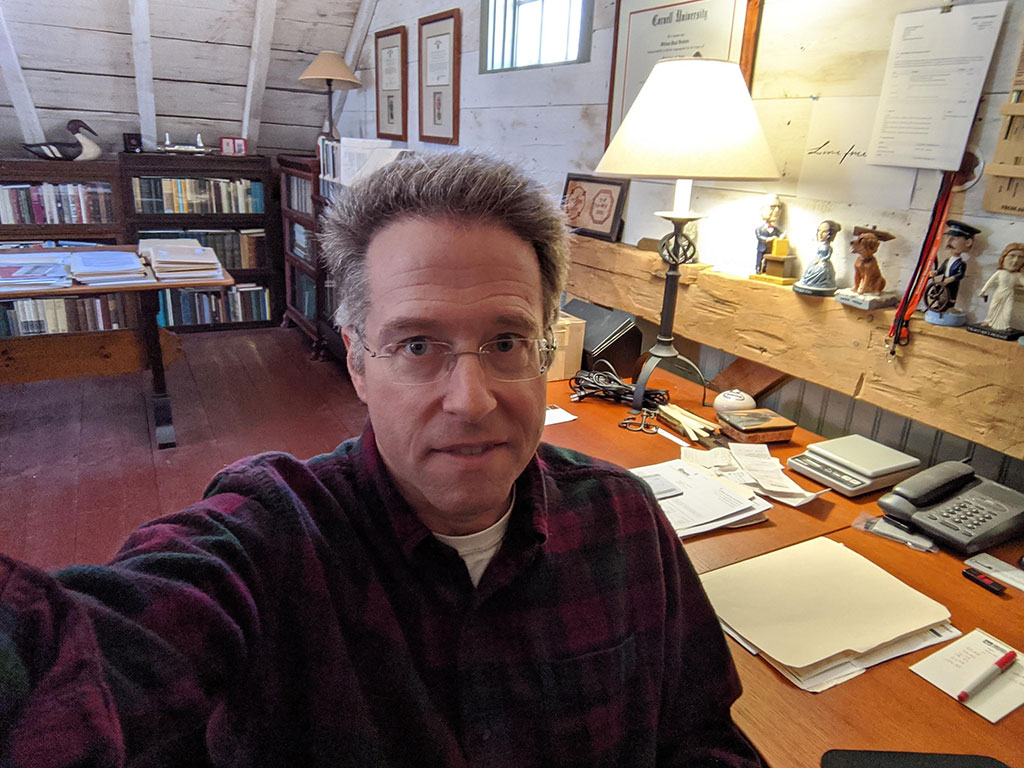 ---
Katie:
A video game came out last Friday called, "Animal Crossing: New Horizons" that lets you build a museum with things you collect. Here are a few screenshots of the exhibits. Lto R, Fossil Exhibit, Aquarium (tuna and anchovies), and Aquarium (Sturgeon.) The sturgeon has a tie to conservation as we use Sturgeon's Glue (Isinglass) for mending and consolidation.
---
Bryce:
Here's Ruth!!
---
Monique:
Cats enjoying home.
---
Julie:
Our barn mission.
---
Luana:
My kittie Pasqualino. He is VERY happy to have company and have me at home, though he sleeps most of the day!
---
Kiyoshi:
Maple Syrup!
---
Bexx:
Completes the world's most difficult picture puzzle.
---
Keep 'em coming, everyone!!