NEDCC Consults on the Digitization of Slide and Negative Collection for the United Nations Refugee AgencY
"You know, you teach. You do not know, you learn." – Lao Proverb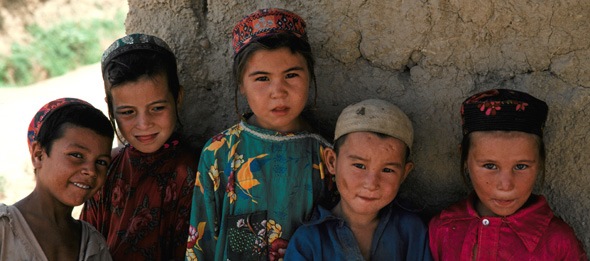 Photograph courtesy of UNHCR - Refugee Children in Pakistan. Photographer: Nicholas Van Praag
The Northeast Document Conservation Center recently provided consultation on a project that will help preserve an internationally significant photograph collection.
NEDCC was contacted by the nonprofit Digital Divide Data (DDD), whose mission is to help disadvantaged youth in developing countries through training and employment. The Center was asked to provide consultation on creating a high-quality and low-cost imaging lab in Laos, for the purpose of scanning the slide and negative archive for the United Nations High Commissioner for Refugees (UNHCR), the UN Refugee Agency. Digital Divide Data's goals for setting up this lab in Laos were twofold: to train and employ people in the region and to help preserve this endangered material for the UNHCR. This project is the first stage in DDD launching an imaging lab to meet the needs of other cultural heritage institutions throughout the world.
About the UNHCR Collection
The UNHCR Archive contains 108,000 slides and negatives from the last 50 years that document the plight of refugees across the world who have been displaced by war, conflict, and human rights abuses. This historic collection contains some important names in photography, including Jacques Lowe, Sebastio Salgado, and James Nachtwey. Since all slide and negative films from this period are at risk of fading and deterioration, saving this large and important collection is an urgent task.
Building the Imaging Lab and Training Staff
Digital Divide Data put together a team of advisors that included Ian and Angela Moor, conservation consultants from the Centre for Photographic Conservation in the UK, who traveled to the lab site in Laos several times to perform a preservation study for the UNHCR and to provide hands-on training for DDD staff on the care and handling of historic film materials. They demonstrated appropriate cleaning methods and recommended proper environmental controls for the collections and the imaging lab space.
NEDCC worked with DDD staff through email and Skype to draw up the specs for the imaging station camera stand, and to offer recommendations on the set-up for the three color correction stations. The Imaging staff at NEDCC drafted a tutorial on image capture and color correction for use as a training tool by the team in Lao, and also consulted on appropriate workflow for film digitization.
Funded by an anonymous donor, the slide and negative imaging project will make these photographs available through the UNHCR database to researchers, the media, advocates for refugee rights, museum curators, and photography experts around the world.
About the United Nations High Commissioner for Refugees (UNHCR), The UN Refugee Agency
Protecting refugees is the core mandate of the UN Refugee Agency, which was set up to look after refugees, specifically those waiting to return home at the end of World War II. The 1951 Refugee Convention established the UNHCR, and since then, it has offered protection and assistance to tens of millions of refugees, finding durable solutions for many of them.
The agency's primary purpose is to safeguard the rights and well-being of refugees, and it strives to ensure that everyone can exercise the right to seek asylum and find safe refuge in another State, with the option to return home voluntarily, integrate locally, or to resettle in a third country. In more than six decades, the agency has helped people restart their lives. Today, a staff of more than 7,600 people in over than 125 countries continues to help tens of millions of people. Established in 1996, the UNHCR Archive includes material from more than half a century of field operations around the world as well as material from headquarters. It occupies about 10 kilometers of shelving space on two floors in Geneva's headquarters. Learn more.
About Digital Divide Data (DDD)
Digital Divide Data was founded in 2001. Jeremy Hockenstein, then a business consultant, traveled to Angkor Wat and was struck by the mix of poverty and progress he saw in Cambodia. Recognizing the opportunity to make a difference, Jeremy and a group of friends - Jason Rosenfeld, Kathryn Lucatelli, Scott Keller, Vernon Naidoo, and Shawn Fremeth - committed to figuring out what they could do. Digital Divide Data now employs youth from disadvantaged backgrounds through offices in Cambodia, Laos, and Kenya, and trains orphans, rural migrants, and the disabled in basic computer and English skills, and then hires those who meet professional standards as entry level employees. These employees split their days between client projects, on-site training, and further education. Learn more.
Jeremy Hockenstein Comments on the Project
"This project couldn't have happened without the expertise of people like the staff at NEDCC and the team from the Centre for Photographic Conservation. Today, success is based around knowledge, and people need access to that. As a result of this collaboration and shared knowledge, these young people will be given a tool to create their own futures, and this vital film collection will be preserved."