From Collections Care to Patient Care: A New Chapter Begins…
Hundreds of librarians, archivists, and curators throughout the United States have come to know Claire Grund as the face of NEDCC. For the past four years, she has crisscrossed the country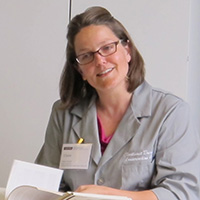 providing free advice as the trailblazer of NEDCC's successful conservation outreach program. The staff and board of directors are sad to announce, however, that Claire will soon be leaving NEDCC. Shortly, her "patients" will no longer be books, documents, photographs, and artistic works; they will be people. Claire has been accepted to nursing school and will begin training for her new career this fall. Congratulations, Claire!
Let's take a quick look back before Claire moves forward…
Nearly four years ago, in July 2014, NEDCC established a new full-time staff position to more directly serve the conservation needs of libraries, archives, and museums across the entire United States. This new initiative, which started as an experiment, was soon firmly-established as a successful program thanks to Claire's passion, dedication, and expertise.
Claire Grund, who joined NEDCC in 2005, had always enjoyed consulting with clients as much as performing the subsequent treatments on their materials. This made for a perfect match when NEDCC had the idea of assigning a conservator to spend 100% of her time providing free consultations to collections-holding institutions—not just by phone and email, but at their own facilities. Claire jumped at the opportunity to advise clients full-time as part of NEDCC's mission-driven culture.
On the Road for NEDCC
In the past four years, Claire has visited over 150 institutions, met with hundreds of librarians, archivists and curators, and attended over 60 conferences. Working closely with NEDCC's Preservation Services Department, she has also written and presented webinars on a variety of conservation and preservation topics.
And, as an unanticipated side benefit, she has made a great many personal relationships. "As the public face of NEDCC, I was able to share my passion for collections care on a much greater level than I ever could as a bench conservator. Instead of conserving a single item, I was able to help institutions prioritize conservation on a much greater scale. I will forever cherish the friendships I have made while working in outreach at NEDCC."
As Claire wraps up her career in conservation, her goal is to continue to serve institutions, but also to help NEDCC recruit and train her replacement.
If you are a book or paper conservator and find yourself identifying with Claire's passion for helping libraries, archives, and museums throughout the United States, please take a moment to learn more about this open position by visiting NEDCC's Employment Opportunities page.
UPDATE - September 2018: Claire has agreed to continue on part time at NEDCC while she is attending nursing school, and while we are searching for her replacement. Claire will be working two days a week with us, so she will continue to offer advice to clients on care and conservation of their collections, and will be invaluable in helping to train the new outreach person. Win/win!
QUESTIONS?
Interested in starting a conversation about the opportunity?
Please contact NEDCC Executive Director Bill Veillette.