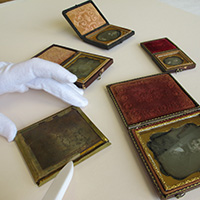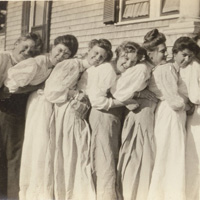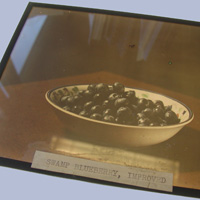 Join NEDCC in supporting the preservation of America's collections with Crowdfunding for Preservation.
It was a pleasure for NEDCC to participate in the
CT League of History Organizations conference 

Remember - NEDCC Can Help You Care for Your Collections

Did You Know?
Paper, Book, and Photograph Conservation
NEDCC specializes in conservation of paper-based materials including books, photographs, maps, documents, architectural plans, parchmens and papyrus, and works of art on paper including prints, drawings, and Asian paintings such as scrolls, screens, and woodblock prints. In consultation with clients, NEDCC strives to achieve a balanced approach to conservation that recognizes the unique value and intended use of each object. 
Imaging Services
As a complement to its conservation services, NEDCC has offered reformatting services to its library, archive, and museum clients since the 1970s. The Center focuses on the safe digitization of fragile, rare, and historically-significant collections; items that are unusual or difficult to handle; and large collections that may exceed an institution's internal digitization capacity. TheImaging department can digitize transmissive media including nitrate and acetate films, glass plates, and X-Ray film, as well as bound volumes, oversize objects, and single items.
Audio Preservation 
NEDCC offers digitization of audio media using traditional and optical scanning technologies.  The Center reformats recordings on grooved media such as wax cylinders and discs using the IRENE technology, which uses digital imaging to safely retrieve sound without using a stylus. The Center has recently launched its expanded audio preservation service which includes reformatting of magnetic and digital audio tape. All audio preservation workflows include 100% attended transfers and 100% quality control - best for unique collections that demand a higher level of care and skill.
Preservation Training
Browse NEDCC's  Preservation Training Schedule, with one or two-hour webinars on a wide variety of topics for historical organizations, including caring for photograph collections, rare books, framed collections, textiles, and digitization standards and best practices. Onsite workshops can be customized for your institution or your region. 
Assessments and Consultations
NEDCC Conservators and Preservation Specialists provide consultation services on many conservation and preservation issues, including collection storage and housing, exhibit practices, new building or renovation projects, etc. NEDCC offers three different types of assessments to evaluate collections: Preservation Needs Assessments; Collection-Level Assessments; and Item-by-Item Assessments. An assessment can be often the first step in an institution's long-term preservation initiative. Many granting agencies require such assessments before funding storage improvements or conservation treatment.
Free Resources
Take Advantage of NEDCC's Free Resources, including basic information on care of paper and film collections; sources of funding for conservation and digitization;  information on caring for family collections; and phone or email assistance in the event of a disaster.
QUESTIONS about preserving your collections? 
Feel free to "Ask NEDCC." 
---
NEDCC is grateful for support from: