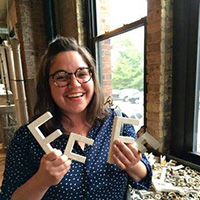 Senior Preservation Specialist
Frances Harrell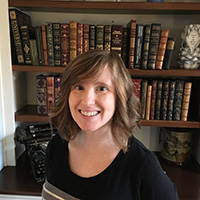 Preservation Specialist
Danielle Spalenka
Join us in Atlanta, Georgia
DIGITAL DIRECTIONS:
Fundamentals of Creating and Managing Digital Collections
October 15-16, 2018
NEDCC NEWS
NEDCC Now Has Preservation Specialists Based in the Southeast and Midwest


Senior Preservation Specialist Frances Harrell is located in Savannah, Georgia and serves the southeast and beyond, offering Preservation Needs Assessments, consultations, and disaster assistance. Frances can help you organize a training program for your institution or your region on topics including collection care, digital preservation, environmental monitoring, and preservation of audiovisual collections.
Frances is also the project manager for NEDCC's Digital Assessment Training: Building a Framework, Building a Community, funded by a grant from the National Endowment for the Humanities (NEH.) The project will present a collaborative digital assessment training program, which will approach digital preservation and training through case-study assessments, shadowing opportunities, workshops, and a Digital Assessment Institute.


Preservation Specialist Danielle Spalenka works from her home office in Louisville, Kentucky and serves the Midwest region and beyond. Danielle can provide training and consultations on topics including digital preservation, audiovisual preservation, care of paper-based collections, disaster planning, and a variety of other topics.
Danielle is also a principal instructor for NEDCC's Fundamentals of Audiovisual Preservation web course, which give participants the foundation needed to be effective collections stewards for audiovisual materials. Over 6 sessions, this course covers risks to audiovisual materials; care and handling; inventory and assessment; planning, preparing, and implementing reformatting projects; managing digital audiovisual collections; and disaster preparedness and response.
---
Questions?
Need advice on caring for your paper and media collections? Interested in planning a training program for your organization or region? 
Contact:
Frances Harrell   or  Danielle Spalenka
---
NEDCC is grateful for support from: