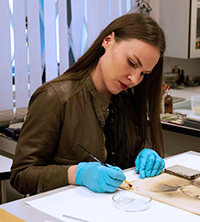 2017 Advanced Photograph Conservation Training Program Participant, Anna Aseeva
2017 Advanced Photograph Conservation Training Program
The Northeast Document Conservation Center (NEDCC) is pleased to announce that the 2017 Advanced Photograph Conservation Training Program participant will be Anna Aseeva, an experienced conservator at the ROSPHOTO State Russian Museum and Exhibition Centre, Saint Petersburg, Russia. Anna will be at NEDCC in Andover during August and September 2017, and her training will include travel to New York City and Washington DC to visit US conservation labs as well as major museums and other institutions.  The training program is made possible by a generous grant from the Trust for Mutual Understanding.
Anna has worked at the ROSPHOTO State Russian Museum and Exhibition Centre since 2005. The ROSPHOTO collection includes unique materials that present an overview of the art of Russian and world photography, history of art styles and aesthetics, development of photographic techniques, and the evolution of photographic technology. ROSPHOTO cares for its own photograph collections, but also conserves collections belonging to other museums and archives, which lack the in-house expertise to treat photographs.  Like NEDCC, ROSPHOTO provides workshops for museum archivists and conservators.
"Conservation and restoration of photographic materials is a new and developing field in Russia," Anna explains. "Unfortunately, in our country professional education in conservation of these complicated materials is not available yet."  Anna is planning to prepare a handbook for conservators and archivists on identification of photographic materials and practical conservation treatments, the first publication of its kind available in Russian. "I believe that this training opportunity will provide the knowledge to help me with this challenging task, and in the long run will benefit all Russian museums and archives that care for photographic collections."
NEDCC looks forward to working with Anna!