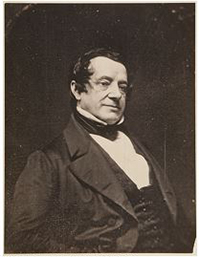 Washington Irving, Esquire
(1783-1859)
Matthew Brady Studio C. 1857
Salted Paper Print after a daguerreotype
119.1976.13
Courtesy of Special Collections,
Fine Arts Library, Harvard University
---
NEDCC Presents:
Digital Directions:
Fundamentals of Creating and
Managing Digital Collections
Aug 21-23, 2017
Seattle
Special Program

Salted Paper Print Symposium
September 14-15, 2017
Harvard Library and the Foundation of the American Institute for Conservation will present a multi-disciplinary, two-day program that focuses on the preservation, characterization, use, and interpretation of the salt print process, now over 175 years old.Scholarly presentations will include the technical history of salt prints, historical applications of the process for copying and disseminating information, and innovative material analysis. Emphasis will be placed on collaborative research which uses scientific and art historical evidence to shed light on the preservation of salt prints as well as the technical evolution and cultural impact of this seminal photographic process.
September 14 - 15, 2017
9:00am - 5:00pm
(a reception will take place in the evening of September 14)

Harvard University, Cambridge, MA
$189 AIC members; $249 non-AIC members
Late Registration (after August 31): $210 AIC members; $270 non-AIC members             

NOTE:
The NEDCC Salted Paper Printing workshops filled quickly, and are now sold out.
But there are a variety of fascinating TOURS available in conjunction with the Symposium.

LEARN MORE:
Complete Information and to Register 
for the Salted Paper Print Symposium