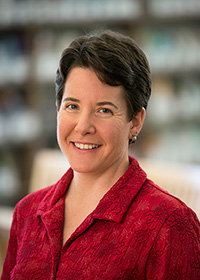 Ann Marie Willer
Join us in Seattle!
DIGITAL DIRECTIONS
Fundamentals of Creating and
Managing Digital Collections
Aug. 21-23, 2017

NEDCC STAFF NEWS
Ann Marie Willer Appointed Director of Preservation Services


NEDCC is pleased to announce that Ann Marie Willer joins the NEDCC staff as Director of Preservation Services. With over 20 years of experience in the library field, including 14 years as a preservation librarian at the University of North Texas (UNT) Libraries and the Massachusetts Institute of Technology (MIT) Libraries, her knowledge of paper-based, audiovisual, and digital collections will provide a tremendous resource for NEDCC's expanding national outreach program.
Ann Marie has been recognized as an effective leader and has successfully led cross-departmental committee work for both the MIT Libraries and the UNT Libraries. She has presented at national and regional conferences on a wide range of topics including Diversity and Inclusion in Preservation, Emergency Preparedness, Assessing Audio-Visual Collections, and Preservation Administration.
Ann Marie has a long association with NEDCC, beginning with a collection assessment in 2004 when she served as Preservation Librarian at the UNT Libraries. She was invited to join the NEDCC Advisory Committee after moving to the MIT Libraries in 2006, and served as Chair of the Committee from 2012-2013. She earned an MS in Library Science at the University of North Texas, and a graduate certificate in Preservation Management from Rutgers.
Welcome Ann Marie!
---
NEDCC is grateful for support from: