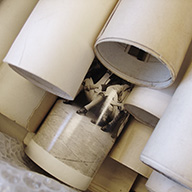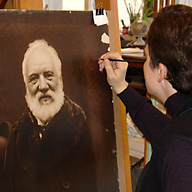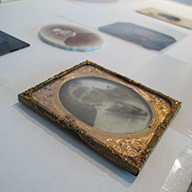 NEDCC performs expert conservation treatment of a wide range of photographic materials, including historic images, family heirlooms, works of art, and archival collections. Types of photographs treated in the Paper Conservation Laboratory include:
Black and white prints (albumen, salted paper, gelatin silver, platinum, etc.)
Color prints
Crayon enlargements
Panoramas
Cased photographs (tintypes, daguerreotypes, ambrotypes)
Glass plate negatives
Film-based negatives
Different levels of conservation treatment are sometimes available. The choice of treatment depends not only on the condition of the artifact, but also on other factors such as its future use, storage or display conditions, aesthetic or historic content, predicted outcome of the treatment, and the client's budget.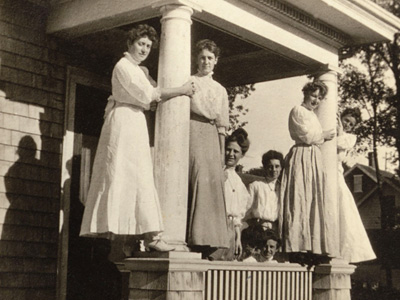 Common treatments for photographs may include: flattening of rolled or distorted photographs; surface cleaning to reduce superficial dirt; removal of mold; elimination of self-adhesive tapes and other repairs; removal of harmful mounts; consolidation of cracked or flaking emulsion or applied media; aqueous treatment to reduce acidity, deterioration products, discoloration, and stains; mending tears; filling areas of loss; lining fragile  or fragmentary objects with Japanese or western papers; and mounting on museum board to preserve the surface of historic mounts while eliminating harmful mount cores.
Cosmetic treatments for works with aesthetic value may include: stain reduction; filling losses with matching paper; removal of prior disfiguring restoration work; and inpainting (retouching) areas of image loss. These non-essential treatments are performed at the discretion of the client. Various rehousing options are available, including polyester film encapsulation, museum-quality mounting and matting, and construction of special enclosures to support fragile and distorted photographs.

NEDCC offers an array of custom conservation matting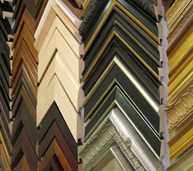 and framing services, including museum quality mounting and matting of photographic prints meeting the Image Permanence Institute's Photographic Activity Test (PAT) requirements for image stability. Formal presentation of photographic prints in new custom frames or fitting into existing client frames is optional.  Upon request, we will work with you to design a new frame that will look attractive and ensure the long term preservation of your photographs.

Learn more about proper framing techniques:
"What's Behind Your Frame?"
If treatment is not practical, digitization, or digital restoration of historic prints or negatives may be a logical and cost-effective alternative. Preservation of the original artifact together with the production of a digitally restored version may offer the best solution in some instances. Digital services can be provided by NEDCC's Imaging Services department.
For information on obtaining a conservation treatment proposal
Conservation Services for Cultural Institutions
Conservation Services for Private and Family Collections
For information on shipping
Packing and shipping instructions are available here
Assessments

NEDCC offers three types of assessments, Preservation Needs Assessments, Collection-Level Assessments, and Item-by-Item Assessments. An assessment is often a first step in developing a preservation plan for your collection or object. The resulting report can provide the basis for a successful fundraising initiative.
For information on obtaining an assessment:
Questions?
E-mail Michael Lee,
Director of Paper and Photograph Conservation
(978) 470-1010, ext. 228
E-mail Monique Fischer,
Senior Photograph Conservator
(978) 470-1010, ext. 229