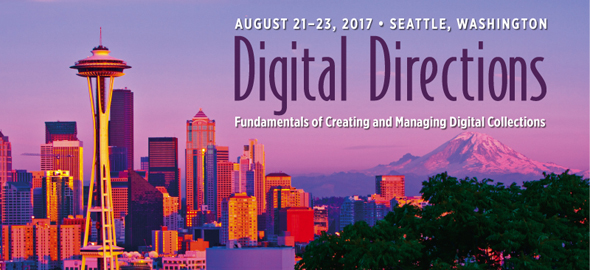 Digital DIRECTIONS
FUNDAMENTALS OF CREATING AND MANAGING DIGITAL COLLECTIONS
August 21-23, 2017
Guided by a faculty of national experts, join colleagues from institutions large and small for two and a half days of instruction on best practices and practical strategies for the creation, curation, and use of digital collections. Network with colleagues who have similar challenges, interact with faculty one-on-one, and gain a comprehensive introduction to digitization and digital preservation. 
Who Should Attend?
Are you just getting started in digitization and digital preservation? Trying to bring several digital projects together into a cohesive digital preservation program? Or are you well into a digital collections project and need a refresher on the latest standards and best practices?

The Digital Directions conference is geared toward professionals working with digital collections at archives, libraries, museums, historical organizations, government agencies, corporate archives, and other organizations that steward digital collections. We offer a student discount – this is an excellent supplemental training opportunity for young professionals.
Benefits of Attending:
- The Big Picture: You will come away with an understanding of the major issues to consider in planning or implementing a digital collections project or program.  
- Making the Case: You can explore strategies to help advocate for a digital preservation program to administrators, funders, and your community.
- Contacts and Support Networks: There will be ample time to interact with faculty, who are all experienced practitioners in the field; and to meet colleagues who can be helpful as you develop your institution's digital preservation program.
Conference Topics Will Include:
Assessing Risks to Digital Collections
Understanding Copyright
Digital Project Planning
Selection for Digitization
Basics of Information Security
Metadata for Digital Projects
Digital Storage
Working with Born-Digital Collections
Digitizing Audiovisual Collections
Questions about conference content?
Contact Ann Marie WIller, amwiller@nedcc.org
Questions about conference registration?
Contact Kim O'Leary, koleary@nedcc.org


| | | |
| --- | --- | --- |
| Early-Bird Registration | $485 USD  | Valid through May 26, 2017 |
| Regular Registration | $525 USD |  Beginning May 27, 2017 |
| Student Registration | $350 USD | Copy of current student ID required |
 
 
 

Optional Lunch Discussion Group:

(Please note that space is limited)

Day 1

$36

 Optional Lunch Discussion Group:

(Please note that space is limited)

 Day 2

$36

About the Networking Lunches
Join faculty members for small group discussions over a buffet lunch to discuss topics on which each faculty member is presenting.
Seats are limited – and we have just a few spots left!
On Monday, join:
Rebecca Chandler, Consultant, AVPreserve
Greg Colati, AUL, Archives, Special Collections & Digital Curation, University of Connecticut
Jessica Branco Colati, Library Services Solutions Architect, Iron Mountain
David Minor, Director, Research Data Curation Program, UC San Diego Library 
On Tuesday, join:
Greg Cram, Associate Director of Copyright and Information Policy, New York Public Library
Erin O'Meara, Department Head, Office of Digital Innovation/Stewardship Associate Librarian, University of Arizona
Roger Smith, Director, Digital Library Development Program, University of California, San Diego
Bill Veillette, Executive Director, Northeast Document Conservation Center 
A Sampling of Participant Comments from the 2016 Digital Directions in Denver 
This conference, and what I gained from it, far exceeded my expectations. I will return to work with concrete ideas and resources to help improve current projects and better plan new ones, particularly in the areas of digital preservation and digital storage considerations. Lately I've been feeling weighed-down by our digital library challenges but after this conference I feel more invigorated and encouraged (Yay!)


For a small institution without a defined digital services department, or even person in charge, this conference (and the accompanying contacts and resources) is of immense value. I am scheduled to present a review of best practices to our management that may well result in the implementation of some if not all of these practices. I have learned a tremendous amount, and hope to attend future conferences.


Thanks for offering this! It's the first conference where I felt surrounded by librarians who actually speak my language and understand what I'm talking about.


Attending Digital Directions provided the fundamental knowledge I need to move forward with our digital preservation projects. It was a great forum for making connections with people working on similar projects -- both the faculty and my fellow attendees were excellent resources, providing a wealth of information and perspectives about different approaches toward preserving and providing access. The sessions enhanced my basic knowledge about digital preservation enough that I feel confident moving forward with our photograph and manuscript collections.


As a result of this conference, I have a list of specific tasks, from setting up meetings, discussing collaboration, to reviewing metadata documentation and schemas, to accomplish when I return to work.


A very well done conference, and essential for "lone arrangers" and those from very small institutions who do not have everyday colleagues to learn from. It was very nice to attend a large gathering of the library-museum-archives tribe!