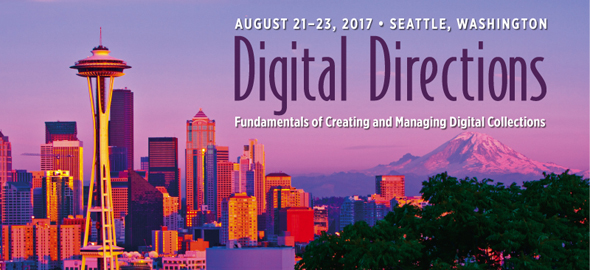 Digital DIRECTIONS
FUNDAMENTALS OF CREATING AND MANAGING DIGITAL COLLECTIONS
2017 Conference Wrap-up
Digital Directions--NEDCC's annual conference on best practices and practical strategies for the creation, curation, and use of digital collections--was held in Seattle in August 2017. Participants included representatives from 31 states, as well as Canada, Poland, and Thailand.
2018 Digital Directions Conference
STAY TUNED for plans for the 2018 Digital Directions conference, which will be held in the eastern U.S. JOIN the NEDCC E-News List to receive updates on the conference and other preservation news. 
Comments from Digital Directions participants on the value of attending: 
Digital Directions has given me just that: Direction(s). I have a path to laying a policy infrastructure, working more effectively with partners, and opening up our collection in ways that empower our users to really use them. It was a ton of information, but I don't feel overwhelmed. I feel prepared. 
This conference has been one of the most directly relevant to managing digital collections I have attended. It has provided applicable and useful resources while enlightening me to resources and documentation of which I otherwise would have been unaware. 
It has been over ten years since I was involved in a digital project, so the updates and information to prompt me to think about what opportunities and challenges we'd face in our plans was very helpful. 
We are a small archives and this conference has provided a firm foundation for us to move forward with establishing a digital program. It has also given us ideas for discussing the importance of establishing a digital program with our administrative directors and fiscal people. 
I have a better idea of how to make our photo collection more accessible to our users - in terms of ideas and metadata. I also feel more confident about the direction we are moving in terms of our workflow. I also gained some new insight regarding selection. 
We hope to create policies and procedures for our digital archives. The tools we learned will help create workflows and processes for the small institution I am from.  
I had expected a refresher on digital preservation and description, but in addition to covering basics I was inspired and given resources to think expansively about how we can share our digitized and born-digital records.