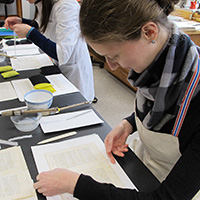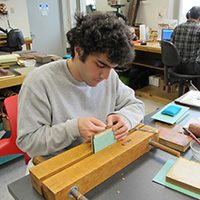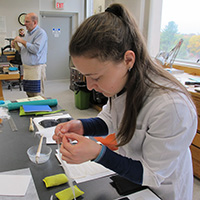 NEDCC Provides Training for Conservators from
the State Hermitage Museum, Saint Petersburg, Russia

NEDCC recently hosted a three-week training program for conservators from the Laboratory for Scientific Restoration of Graphic Works at the State Hermitage Museum in Saint Petersburg, Russia.  
State Hermitage Museum, Saint Petersburg, Russia
Since its inception, the Laboratory has conserved about 25,000 works of graphic art of various techniques, as well as books and documents from the State Hermitage Museum Archives. The Laboratory experts conserve fine art prints, watercolors, works in gouache, pastels, miniature drawings, Asian art, books, and documents. The collections date from the 15th century up to the present day.  Laboratory staff members also conduct systematic surveys of the museum collections in order to determine preservation needs of the collections.
Hands-on Training
The conservators gained practical experience in conservation techniques including surface cleaning, testing solubility of colors, light bleaching, mending, aqueous treatment, lining with Japanese paper, media consolidation, and treatment of parchment. In the Book Conservation Lab, they practiced repairs and leafcasting to fill losses, various types of sewing structures, and several binding methods. They were also instructed on best practices for photographic documentation of conservation treatments.
Travels
During their stay in Andover, the interns visited local institutions including Harvard University, the Boston Athenaeum, and the Museum of Fine Arts Boston to observe the layout and operation of different conservation laboratories.  At the conclusion of their session at NEDCC, the group traveled to Washington DC to visit the conservation labs at the National Archives, the Folger Shakespeare Library, and the Library of Congress.


VISIT NEDCC STORIES to LEARN MORE
    and view photographs of the Hermitage training program. 
Over the years, NEDCC's international training programs have aided in the preservation of collections in locations including Mongolia, Argentina, South Africa, Central and Eastern Europe, and Cuba.