Advancing Your Career in the Age of COVID-19
By Lisa Muccigrosso, NEDCC Book Conservation Intern
In December of 2019, I accepted an offer from Director of Book Conservation Bexx Caswell-Olson to serve as a Book Conservation Intern at NEDCC. I would soon be heading into the final semester of the full-time Bookbinding Program at North Bennet Street School, and was eagerly looking forward to beginning my life as a book worker after graduation. This appointment was to last 10 weeks, beginning in February 2020 and lasting until the NBSS bookbinding department pause for spring break in mid-April. I would attend school Monday through Thursday, and spend Fridays at NEDCC. Of course, at that time we had no idea what was to come.
I began on February 7. Bexx and my capable mentor, Associate Book Conservator Mary French, got me acclimated to various procedures and the lay of the land: my bench location, where supplies are found, how to log time, where client work is stored, and the ever-important communal break room laden with baked goods. I got my own laptop, which seemed a novelty for an intern, and promptly forgot my password!


First Project - February 2020
After a tour, introductions, and a fortifying snack at break time, Mary and I went to retrieve my first project, a bound book of meeting minutes from a state bankers' association, belonging to the New Hampshire Historical Society. The minutes dated from the late 19th century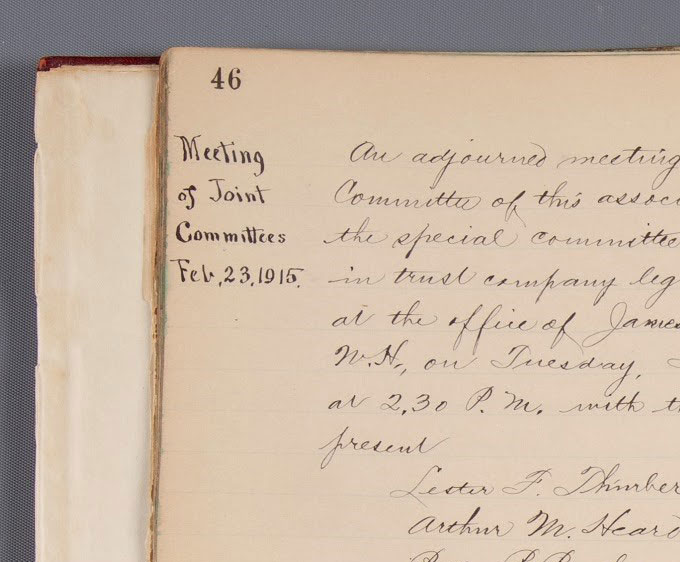 into the early 20th century and were a mix of notes handwritten directly onto the lined pages of the book and typed or printed materials pasted onto the pages. The text block was mostly unbound and the covers were completely detached. Some leaves were torn and many of the bifolia had split spine folds.
The client wished to make the book's information more widely available to researchers through a digital surrogate and so the primary goal of treatment was to stabilize the record book for digitization. Treatment included disbinding the volume, surface cleaning the pages, mending any large tears, and foldering the separated pages before they went to the imaging team for digitization. Following digitization, the foldered leaves were housed in acid-free boxes suitable for long term storage. The client was provided with photographic documentation and a treatment report in both digital and hard copy.
Photo-documentation is the first step in any conservation treatment. NEDCC records before and after photos for all items, and in-progress photos as needed. Before and after photography sessions tend to be more formal or structured, taking place in a dedicated photo-documentation room with color scales for color balancing, bright and even lighting, and identifying information included in each shot. In-progress photos can be a bit more on-the-fly, showing the conservator at the bench or documenting an interesting or unexpected aspect of the item's structure that wasn't visible before treatment.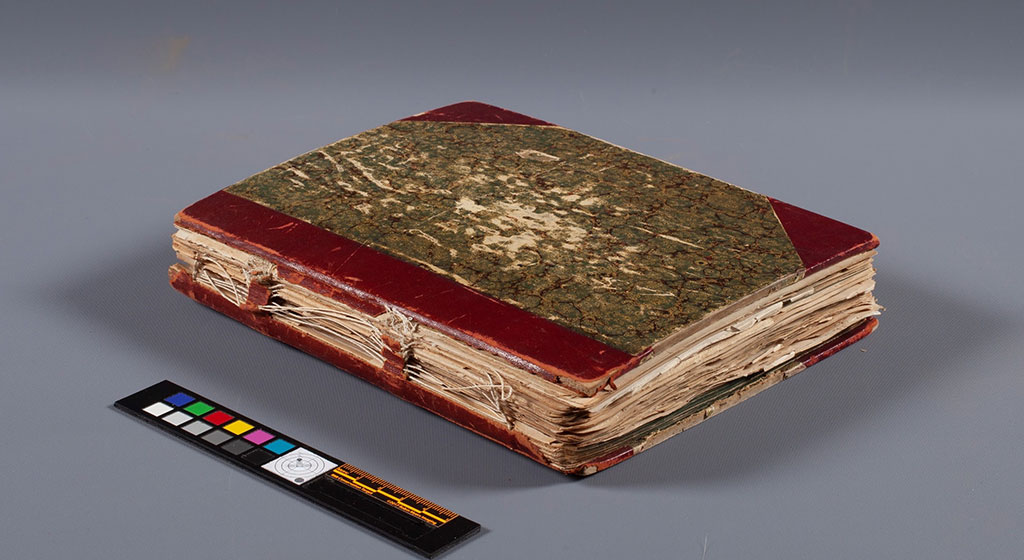 After initial photos were shot, color balanced, printed, and stored digitally, I moved on to collation. Collation can be a complex task, encompassing the physical description of a book as to the number of volumes, pages, illustrations, etc. It also allows the conservator to physically inspect each part of the book and make note of stains, tears, and other types of damage for later treatment. In this case, the book's pages were already numbered, but some of those numbers were covered up by pasted-on papers. I went through and very lightly numbered each page with graphite pencil so that if they got separated or otherwise mixed up later, they could be reunited in order.
Once the pages were collated, the book was completely disbound. This involved cutting the sewing threads holding the binding together so that the pages could be separated. The pages were carefully removed from the thread (or vice versa), and the covers and thread retained separately to be returned to the client. NEDCC always gives all materials back to the client; even fragments that may appear unimportant.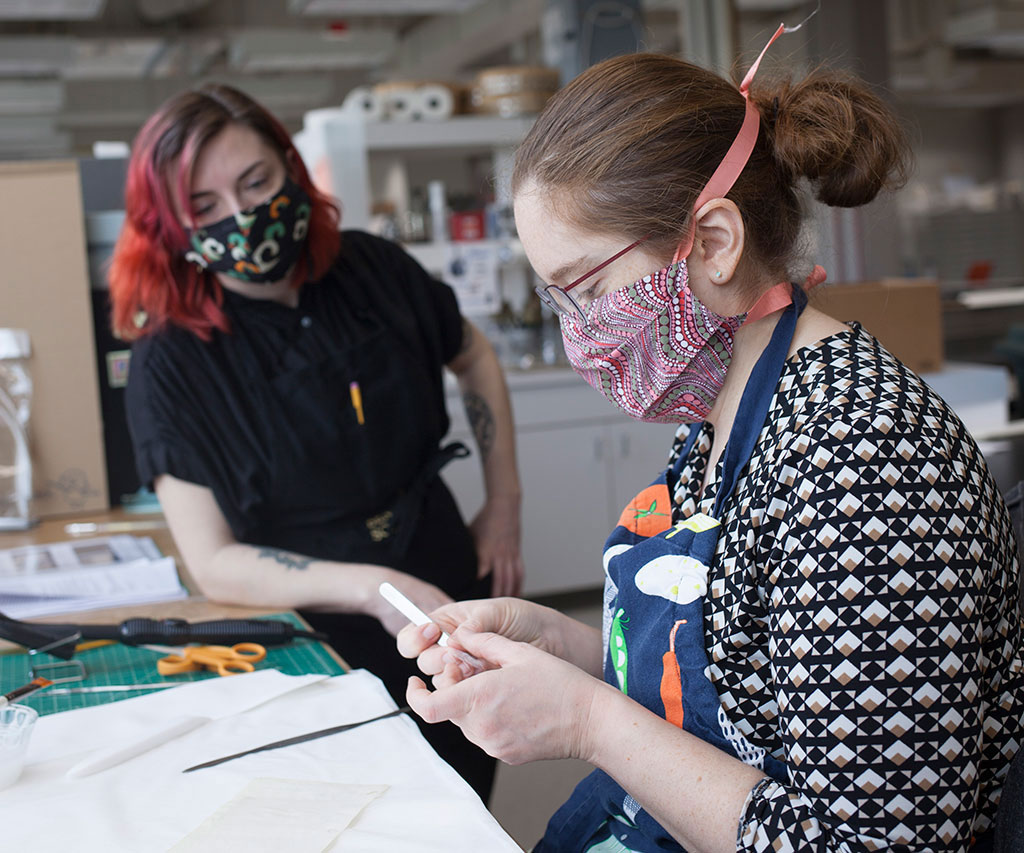 With the book separated into single leaves, it was time to begin surface cleaning. In this book, both the handwritten notes and printed materials were stable enough to withstand surface cleaning, so I used vulcanized rubber sponges to gently wipe the surface of each page and remove accumulated dirt. I also used a soft hake brush to remove any accumulated detritus from the gutters of intact folios.
Once the pages were cleaned, I moved on to mending tears in the pages. Only large tears were mended as necessary to make the leaves safer to handle during digitization. Paper mending involves carefully aligning tears and fixing them with a very thin strip of tissue adhered with a reversible adhesive. I used wheat starch paste and a beautiful kozo fiber tissue that seemed to completely disappear once the paste had dried.
With the pages separated, cleaned, and mended, the end was in sight. I collected buffered folders and inserted each leaf into its own folder in the order of my original collation. The foldered leaves were measured for a custom-fitted box, and then I took them to the photodocumentation room to take the after photos. Once the photos were shot, the book's foldered leaves were sent to the imaging team for digitization.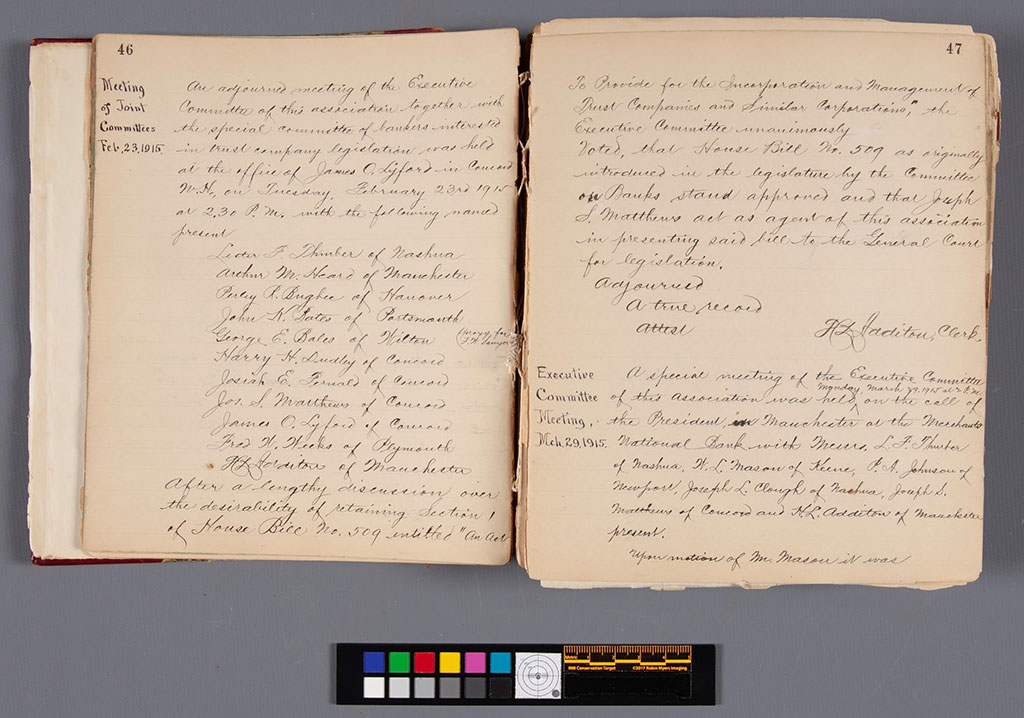 Meeting Minutes Book, Before Treatment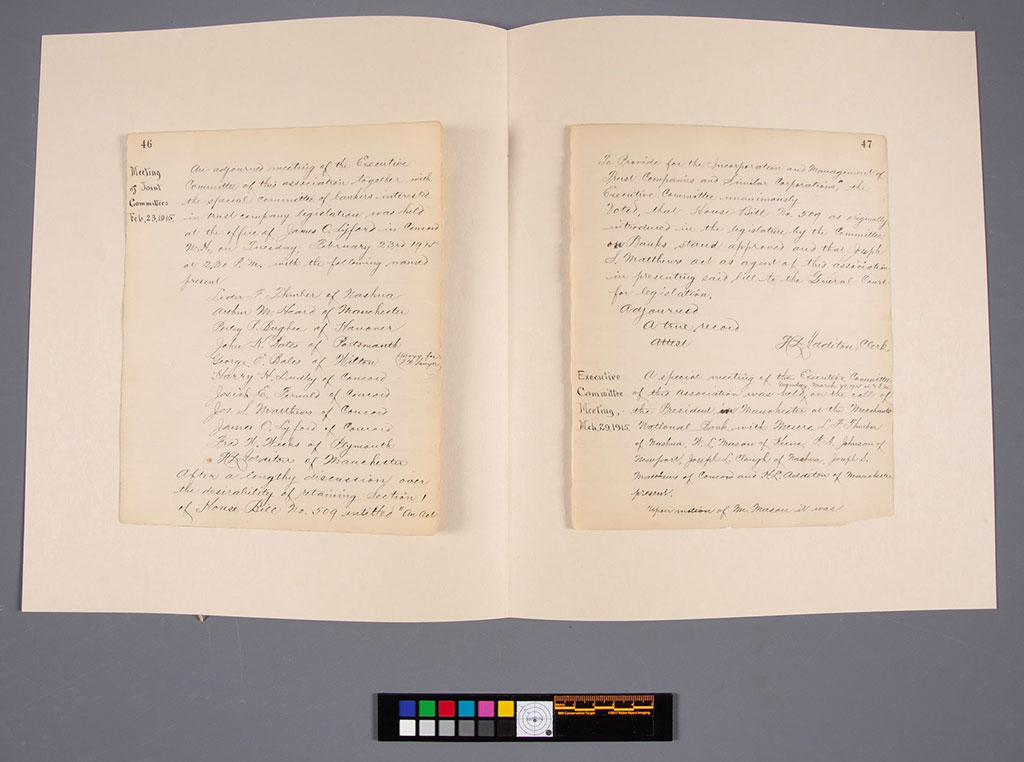 Meeting Minutes Book, After Treatment
Second Project - March 2020
During the first weeks of March, I began work on my second project, which was functionally a very similar stabilization project, but the subject matter was much more interesting to look at: four scrapbooks of late 19th-century American trade cards for the Cape Ann Museum in Gloucester, MA. This project was especially fun for me to start, as I used to collect similar trade cards as an adolescent. I diligently took photos (with Mary there to help) and was able to disbind, surface clean, and folder the first of four scrapbook volumes.
Then, everything shut down due to the COVID-19 pandemic.

By now we're all familiar with the many ways the world changed in mid- to late March. Schools and businesses shuttered, non-essential workers ordered to stay home, the absence of paper goods at the grocery stores, and the rising reports of illness and deaths across the country and the world. I'm one of the lucky ones: I was able to stay home and both of my part-time positions were able to keep paying me, even though I wasn't able to work on-site. NBSS let students know we wouldn't be back for the academic year. My class moved to online discussion sessions, and I should still graduate, just later this year than expected.
NEDCC closed on March 24, and as the shutdowns extended, NEDCC Executive Director Bill Veillette and the department heads sent regular emails to let us all know the state of our little union. Every team had its own remote tasks to work on, ranging from updating NEDCC's online resources to participating in professional development webinars. The Preservation Services team kept right on working, supporting the many individuals who weren't able to work on-site in their institutions anymore. The NEDCC Staff at Home page filled up with reports from across the region detailing what NEDCC's staff members were up to when not working.


Returning to NEDCC - Wrapping Up the Internship
After two months, NEDCC was able to reopen, but life was very different. All staff members wore masks, maintained physical distance, and disinfected surfaces and equipment regularly. We spread out, but were together again, and it was good.
I came in to wrap things up and was able to complete stabilization of the second volume of trade card scrapbooks before handing the project off.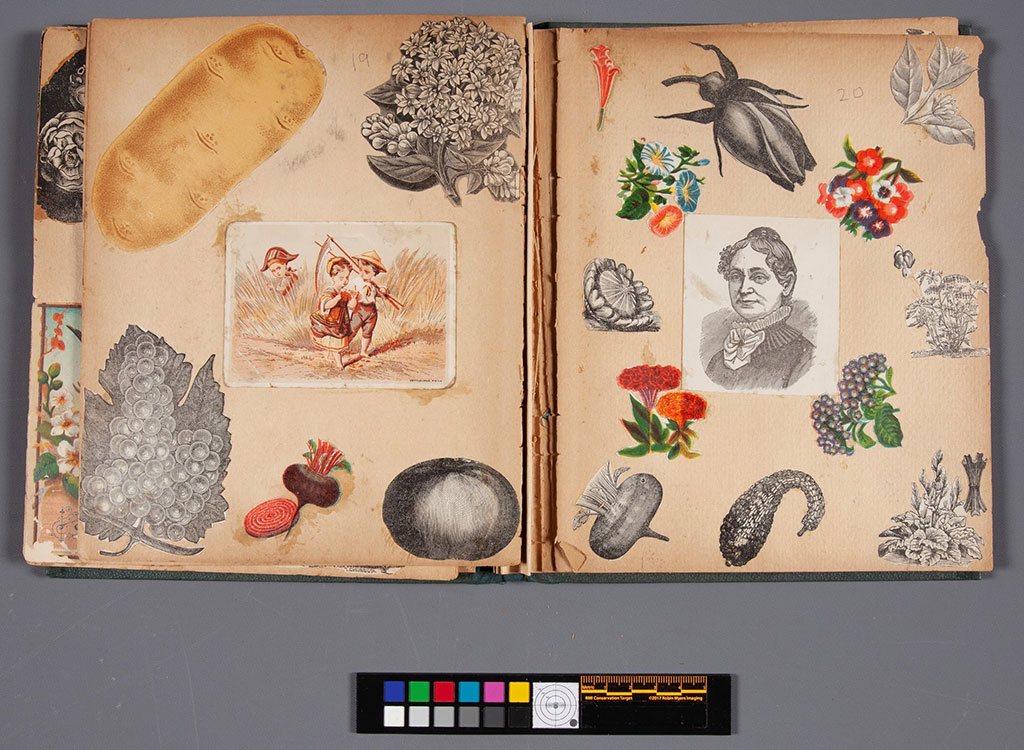 Trade Card Scrapbook, Before Treatment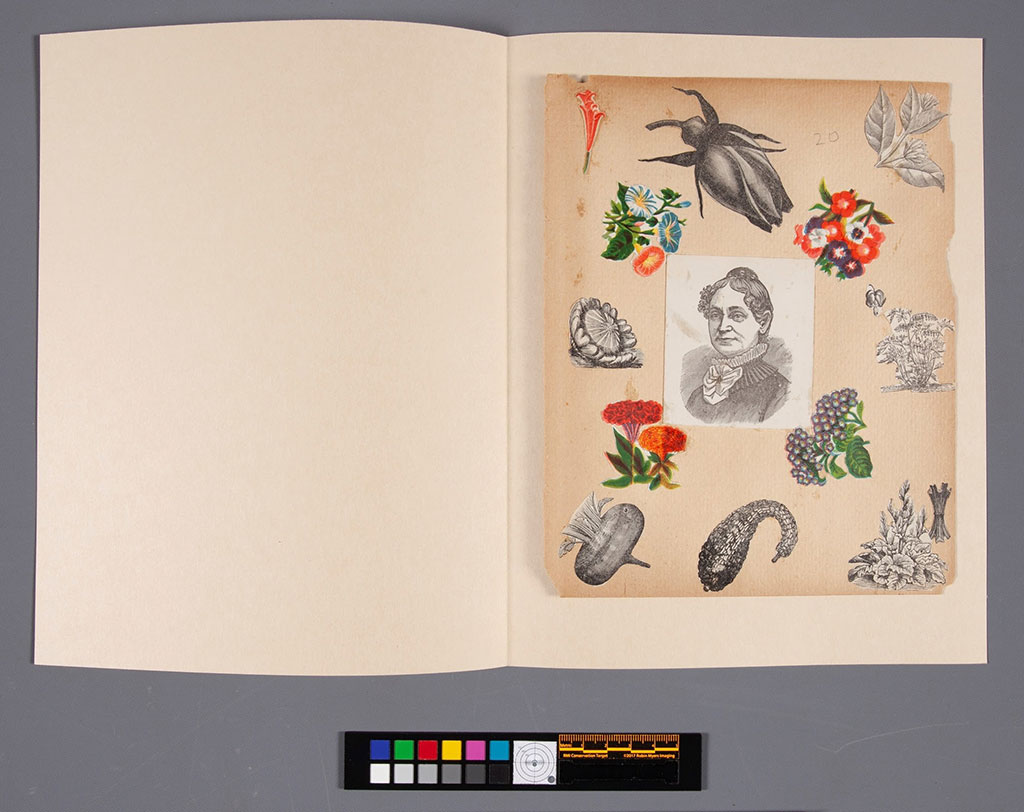 Trade Card Scrapbook, After Treatment
Conclusion
While my internship experience changed dramatically, I'm still grateful for the opportunity I had to work with the staff of NEDCC. I'm especially grateful to have been able to work remotely on whatever I could during the shutdown.
None of us know what the future holds, and things seem especially tenuous to me as I look to graduate and re-enter the job market in a world that's very different from what we all expected. However, I know that my experience at NEDCC can only help my future prospects, and I very much hope the team can say that I helped them as well.
Lisa holds one of the trade card scrapbooks from the Cape Ann Museum
Lisa Muccigrosso is a 2020 graduate of the North Bennet Street School Bookbinding Program.
You can see her work here: booksmadebyhand.com
---
LEARN MORE
The New Hampshire Historical Society
Since 1823 the New Hampshire Historical Society in Concord, NH has been preserving the state's past and telling its stories to each generation. Nowhere will you find a more extensive collection of archives and objects related to New Hampshire's history.

The Society is an independent, nonprofit, member-supported organization, not a state-funded agency. All of its work to save, preserve, and share New Hampshire's past depends on membership dues and contributions from the public.
Visit: www.nhhistory.org

The Cape Ann Museum
Founded in 1873 as the Cape Ann Scientific and Literary Association, today the Museum is a vibrant cultural center. The Cape Ann Museum tells multiple stories, all relating to a single remarkable place. From its earliest days as a fishing and shipping port to its mid-19th century role in the granite industry, to its singular charms of light and sea that have attracted countless artists from the 19th century to the present, Cape Ann boasts a rich and varied culture of nationally significant historical, industrial, and artistic achievement.

The primary campus in downtown Gloucester, MA includes numerous galleries for the display of both permanent and special exhibitions, an auditorium, a Library & Archives, a children's activity center, two sculpture gardens and a 19th century captain's house.
Visit: www.capeannmuseum.org

North Bennet Street School - Bookbinding Program
The two-year, comprehensive Bookbinding program teaches students how to make, restore, and preserve books and other printed treasures.
Visit: www.nbss.edu/full-time-programs/bookbinding