DIGITIZATION OF HISTORICAL AUDIO COLLECTIONS with IRENE
About the IRENE Technology
The IRENE audio preservation service at NEDCC is the culmination of a decade of research and development at the Lawrence Berkeley National Laboratory and the Library of Congress.
IRENE uses a non-contact approach,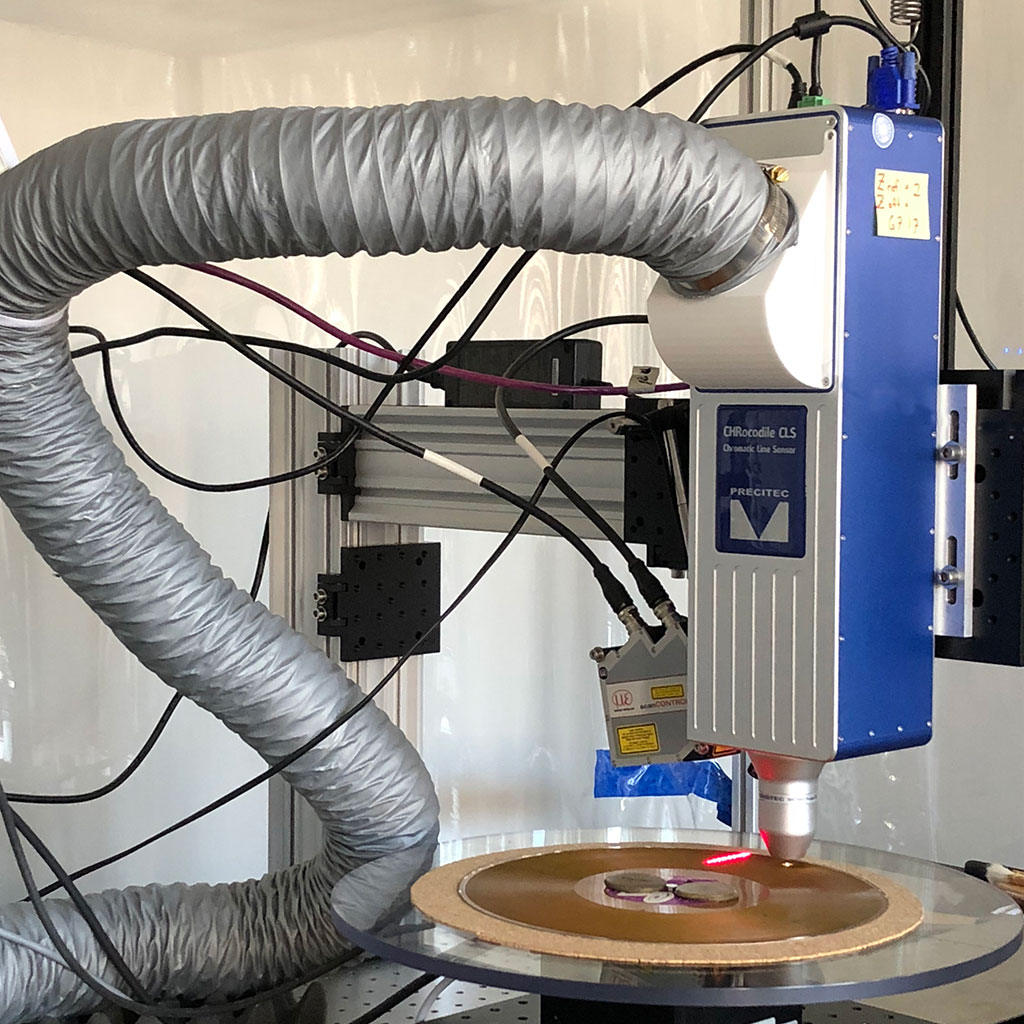 which eliminates the possibility of damage caused by mechanical contact of a stylus on fragile media. The process creates ultra-high resolution images of the audio groove structures in either 2D or 3D, as required. The resulting image files are then processed through software that translates them into an audio file.
If properly cared for, the image files serve as a digital surrogate of the physical object, "virtually" preserving the object's condition at the time of scanning while the object continues to physically degrade over time.
NEDCC Currently Wor
ks with the Following Formats:
Wax cylinders
Lacquer discs (a.k.a., "acetate" discs)
Aluminum transcription discs
Shellac discs
Tin foils
Other rare formats (e.g.,Voicewriter, Audograph, Soundscriber Discs, etc.)


IRENE AUDIO PRESERVATION SERVICES
Digitization
IRENE creates uncompressed Broadcast WAV audio master files in compliance with FADGI and IASA standards. In addition to the audio master files, IRENE also creates ultra-high resolution TIFF image master files of the groove structures (and condition) of the media. All transfers are performed 1:1.
Discovery
"Discovery" provides 30-second audio clips of audio content at a very low cost. This might be useful for a collection that is not labeled, but for which the provenance suggests there may be important content. For a small investment, we could discover the content, assess the condition of the media, and provide digitization proposals. Such information would be very important for writing a grant application or simply making prioritization/selection decisions.
Condition Assessment
"Condition Assessment" provides baseline documentation of an audio carrier followed by periodic assessments to see if the condition of the carrier has changed over time. This service might be used for rare carriers that are valued not just for their audio content, but also as artifacts. IRENE's imaging approach provides much more measurable information about an item's condition than one could evaluate through visual inspection alone.
Cleaning
IRENE is able to digitize dirty carriers, but cleaning them prior to imaging would still produce a superior result. Because NEDCC is a conservation lab, we adhere to the Code of Ethics and Guidelines for Practice of the American Institute for Conservation (AIC). This simply means that we inform you in writing of exactly how we propose to clean any media; only use vetted techniques; and never treat such important information as "proprietary." For more information, see Cleaning Lacquer Discs.
Rehousing
The original acidic sleeves for lacquer discs can accelerate plasticizer exudation. And, the fibers of the cotton linings of original wax cylinder containers can become embedded in the grooves of the carriers. NEDCC recommends rehousing lacquer discs and wax cylinders, which we can do as part of
your project. If you choose to rehouse on your own, acid-free sleeves are widely available from traditional suppliers.
For wax cylinders, NEDCC has collaborated with University Products on a new housing design that allows the carrier and its original container to be stored together in the same box, but in separate cavities. The boxes provide support that prevents contact with the grooves of the fragile cylinders, and preserves the original container associated with the object, which is especially important when the container includes important metadata.
Conservation Treatment
We are also working with objects conservators who specialize in polymers, lacquer, glass, and metals to develop treatment techniques for stabilizing damaged discs and cylinders. Because the goal is performance rather than aesthetics, we are focusing on approaches that will maintain the integrity of the signal quality. This service is not yet available, but please feel free to contact us for further information.
Advantages of the IRENE Technology
No Stylus Wear
The IRENE service is the gentlest method of audio reformatting available for unique, rare, and/or fragile grooved media, and it does a better job of digitizing worn carriers than a traditional stylus approach.
Conservation Ethic
As a nonprofit conservation center, NEDCC strives to exercise the greatest care in preserving both audio content as well as audio carriers. IRENE provides a holistic solution to audio preservation that does not force librarians, archivists, and curators to choose between the preservation of the audio carrier versus its audio content.
Image Restoration
IRENE creates an image file that is then translated by software into an audio file. If desired, imperfections in the image file can be restored prior to translation, resulting in a superior audio file.
Although it is beyond the scope of our service, the audio file can then be further improved by contracting with a specialist provider using traditional audio restoration techniques.
Ability to Digitize Damaged Media
Because IRENE employs a non-contact approach, it is able to digitize damaged and broken media that could not otherwise be played with a stylus.
Did you know?
'IRENE' is the acronym for 'Image, Reconstruct, Erase Noise, Etc,.' and was so named because the first sound retrieved with the system during its development at Berkeley Lab was a recording of "Goodnight Irene" by the Weavers, one of Carl Haber's favorites. They have also so named the IRENE editing software "Weaver."
Questions?
About audio preservation projects and scheduling:

Bryce Roe
Manager of Audio Preservation Services
(978) 470-1010, ext. 237

About receipt and return of your materials, or packing and shipping:

Jonathan Goodrich
Registrar
(978) 470-1010, ext. 215
---
LEARN MORE

Stories and sound clips from the IRENE pilot projects