NEDCC performs expert conservation treatment of a wide range of photographic materials, including historic images, family heirlooms, works of art, and archival collections. Types of photographs treated in the Paper Conservation Laboratory include:
Black and white prints (albumen, salted paper, gelatin silver, platinum, etc.)
Color prints
Crayon enlargements
Panoramas
Cased photographs (tintypes, daguerreotypes, ambrotypes)
Glass plate negatives
Film base negatives
Different levels of conservation treatment are sometimes available. The choice of treatment depends not only on the condition of the artifact, but also on other factors such as its future use, storage or display conditions, aesthetic or historic content, predicted outcome of the treatment, and the client's budget.
Common treatments for photographs may include: flattening of rolled or distorted photographs; surface cleaning to reduce superficial dirt; removal of mold; elimination of self-adhesive tapes and other repairs; removal of harmful mounts; consolidation of cracked or flaking emulsion or applied media; aqueous treatment to reduce acidity, deterioration products, discoloration, and stains; mending tears; filling areas of loss; lining fragile or fragmentary objects with Japanese or western papers; and mounting on museum board to preserve the surface of historic mounts while eliminating harmful mount cores.
Cosmetic treatments for works with aesthetic value may include: stain reduction; filling losses with matching paper; removal of prior disfiguring restoration work; and inpainting (retouching) areas of image loss. These non-essential treatments are performed at the discretion of the client. Various rehousing options are available, including polyester film encapsulation, museum-quality mounting and matting, and construction of special enclosures to support fragile and distorted photographs.
Preparator Services – NEDCC offers an array of custom conservation matting and framing services, including museum quality mounting and matting, sealed packages, sink mats, tension mounting for parchment documents, new custom frames and shadowboxes, and fitting into existing client frames. Services also include custom housings, conservation mounting, preparation for exhibition and travel, and design and fabrication of archival housings and enclosures.

Learn more about proper framing techniques:
"What's Behind Your Frame?"
Optimum image capture often takes place during conservation treatment, and NEDCC's book and paper conservation labs work closely with the Center's in-house imaging studio. Because of this unique collaboration, NEDCC's conservators are able to consult with photographers to determine the best approach for imaging an object and advise on careful handling of rare and fragile materials. This further protects the material, improves efficiency, and captures information at the safest and most appropriate time, while conservation treatment ensures long-term preservation of the original object.
Since the cost of treatment depends on the condition of the object and the type of treatment required, NEDCC's conservators examine each object prior to preparing a treatment proposal and cost estimate. Objects can be brought to NEDCC or shipped to us for examination.
If treatment is not practical, digitization, or digital restoration of historic prints or negatives may be a logical and cost-effective alternative. Preservation of the original artifact together with the production of a digitally restored version may offer the best solution in some instances. Digital services can be provided by NEDCC's Imaging Services department.
NEDCC is a FEDLINK approved vendor.
For information on obtaining a conservation treatment proposal
Conservation Services for Cultural Institutions
Conservation Services for Private and Family Collections
For information on shipping
Packing and shipping instructions are available here
For information on NEDCC's Courier Services
NEDCC offers courier services on a negotiated basis for clients in the northeast corridor of the US. Learn More about NEDCC's Courier Services.
---
ASSESSMENTS
NEDCC offers different types of assessments to evaluate collections. Assessment reports can be used to support fundraising efforts and grant applications.
Assessment of Film Base Collections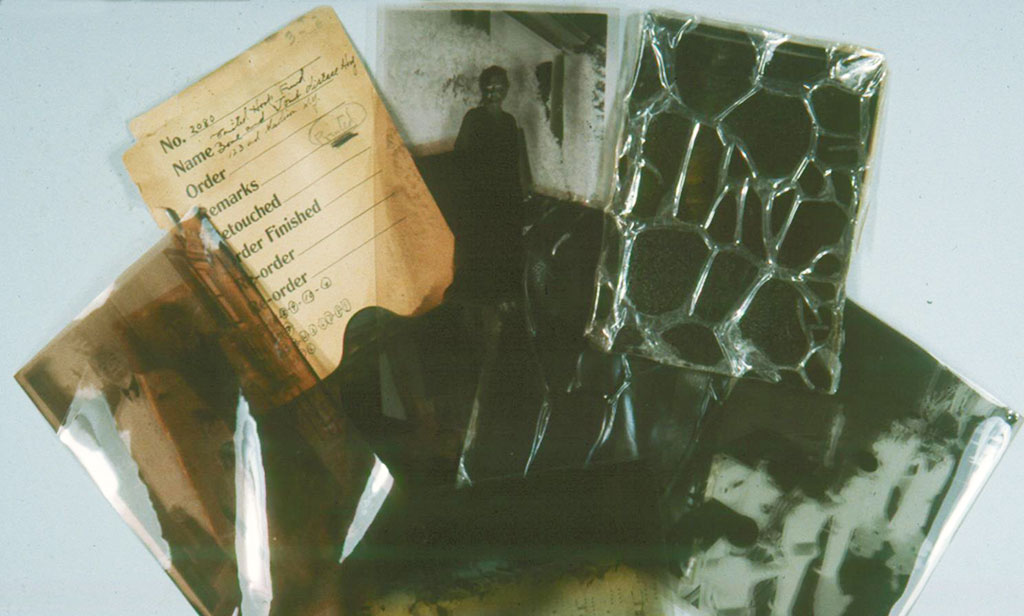 Negative collections, such as these, are rich in cultural history and capture a time and way of life within local communities. Institutions continue to struggle to handle large collections of film base materials, especially nitrate and early acetate film. Managers are overwhelmed by size, odor, potential fire hazards, and organization of these materials. Unfortunately, tackling this problem has not become easier over time.
As our world becomes more digital, the history of film base materials is easily discarded. The materiality of these objects and a record of the past are lost. However, there are ways of managing and sustaining these types of collections.
NEDCC can provide first steps by assessing the condition of the collection, help in developing a long-range preservation plan, improving collections care, handling and access, and providing a report to help with future funding.
---
LEARN MORE about our staff
Read about the experience and qualifications of the NEDCC Paper and Photograph Conservation Staff.
Follow NEDCC Stories
Stories about some of NEDCC's most interesting conservation, digitization, audio preservation, and other preservation projects. Read in-depth descriptions of the processes and view detailed photo galleries of collections from cultural institutions, large and small, across the nation. NEDCC Stories
Questions?
Email Michael Lee,
Director of Paper and Photograph Conservation
(978) 470-1010, ext. 228
Email Monique Fischer,
Senior Photograph Conservator
(978) 470-1010, ext. 229
---
LEARN MORE
View the video by Insider Magazine on NEDCC's Treatment of a 90-Year-Old Photograph
Visit AIC for information about the field of conservation including: