NEDCC's paper conservators are highly skilled and can treat a wide variety of objects. The Center specializes in rare, fragile, and oversize materials, and treatments range from single objects to large collections. Materials treated in the Paper Conservation Laboratory include:
Maps
Photographs
Drawings
Prints
Pastels
Watercolors
Documents
Architectural drawings
Blueprints

Asian Art Works including scrolls, screens,
and wood block prints
Parchment
Papyrus
Ephemera
Globes
Wallpaper
3-dimensional objects with


paper components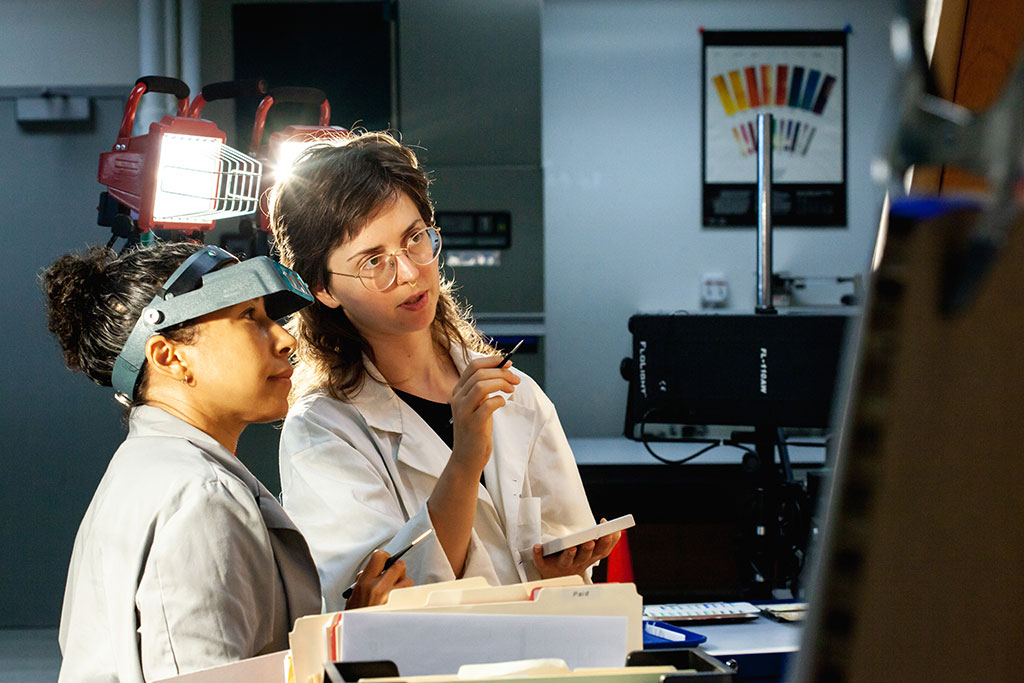 Paper conservation treatment proposals are designed in consultation with the client. The choice of treatment depends not only on the condition of the artifact, but also on other factors such as its future use, storage or display conditions, aesthetic or historic content, predicted outcome of the treatment, and the client's budget.
Common treatments for paper objects include: surface cleaning to reduce superficial dirt; reduction of surface mold; removal of self-adhesive tapes; separation from harmful mounts and laminations; consolidation of flaking or friable media; aqueous treatment to reduce acidity, deterioration products, discoloration, and stains; alkalization to inhibit future degradation; mending tears; filling areas of loss; and lining fragile or fragmentary objects with Japanese paper.
Cosmetic treatments for works with aesthetic value may include: stain reduction, filling losses with matching paper, and inpainting (retouching) areas of image loss. These non-essential treatments are performed at the discretion of the client. Various rehousing options are available, including polyester film encapsulation and museum-quality mounting and matting.
Wallpaper Conservation – NEDCC is experienced in treating historic wallpapers. The work can be completed onsite or safely removed, if possible, for treatment at NEDCC's conservation laboratory in preparation for re-installation. The conservators work closely with NEDCC's Imaging Services department, which has experience creating digital reproductions for losses in wallpaper design, printing on a variety of sympathetic papers and creating full room reproduction wallpapers for installation onsite.


Preparator Services – NEDCC offers an array of custom conservation matting and framing services, including museum quality mounting and matting, sealed packages, sink mats, tension mounting for parchment documents, new custom frames and shadowboxes, and fitting into existing client frames. Services also include custom housings, conservation mounting, preparation for exhibition and travel, and design and fabrication of archival housings and enclosures.
Learn more about proper framing techniques:
"What's Behind Your Frame?"

Photographs are taken before and after treatment, and occasionally during. This treatment documentation is provided to the client on a compact disk along with a full written report. These records are the property of the client and should be guarded as a permanent record.
NEDCC is a FEDLINK approved vendor.
For information on obtaining a conservation treatment proposal

Conservation Services for Cultural Institutions
Conservation Services for Private and Family Collectors
For information on shipping
Packing and shipping instructions are available here
For information on NEDCC's Courier Services
NEDCC offers courier services on a negotiated basis for clients in the northeast corridor of the US. Learn More about NEDCC's Courier Services.
---
ASSESSMENTS
NEDCC offers different types of assessments to evaluate collections. Assessment reports can be used to support fundraising efforts and grant applications.
---
Follow NEDCC Stories
Stories about some of NEDCC's most interesting conservation, digitization, audio preservation, and other preservation projects. Read in-depth descriptions of the processes and view detailed photo galleries of collections from cultural institutions, large and small, across the nation. NEDCC Stories
questions?

Email Michael Lee
Director of Paper and Photograph Conservation
(978) 470-1010, ext. 228


---
Visit AIC for more information about the field of conservation including:
NOTE:
Excellent article on deterioration caused by cellulose acetate (Barrow) lamination.
Virginia's Circuit Court Records Preservation Program, Fall 2018 Newsletter.
Read Here.