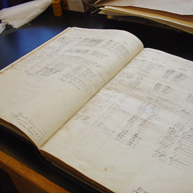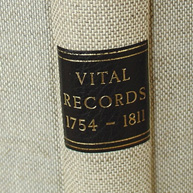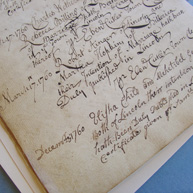 NEDCC is your trusted nonprofit center for conservation and preservation of unique historical records and collections that require special care and handling.
RESOURCES:
Free Advice from Professionals
NEDCC's Preservation Services department provides free preservation advice to Town, Municipal, and County Clerks and other government record keepers. The Center's Directors of Paper, Photograph, and Book Conservation can also offer guidance in planning your conservation treatment project.
Free Preservation Leaflets Relevant to Clerks' Offices
Preservation Training
Visit NEDCC's Training Calendar
Browse our current schedule to find programs that can help government record keepers preserve their valuable collections for the long term. (Examples of courses helpful to Clerks: Coping with Mold Outbreaks, Care and Handling of Paper-based Collections, Beginner's Guide to Digitizing Collections, and Disaster Planning.)
Preservation 101

NEDCC's free Preservation 101 self-guided course offers a basic introduction along with texts and resources that can help local government record keepers build an effective preservation program. Learn how to identify deteriorated materials, how to properly care for collections, and how to set priorities for preservation.
Assessments and Consultations
Preservation Needs Assessments, Collection-Level Assessments, and Item-by-Item Assessments
NEDCC Conservators and Preservation Specialists provide consultation services on many conservation and preservation issues, as well as three different types of assessments to evaluate collections.
Funding Opportunities
A number of funding agencies make grants available for preservation assessments, conservation treatment and digitization. NEDCC can help plan and carry out these grant-funded activities, and can offer advice on planning proposals.
*******************************************
FURTHER RESOURCES:
Simmons Graduate School of Library and Information Science (GSLIS)
Massachusetts Municipal Clerks Archival Education Program
The Massachusetts Municipal Clerks Archival Education Program is an online course developed specifically for Massachusetts Municipal Clerks by archives professors at the Graduate School of Library and Information Science at Simmons College (GSLIS).
The course consists of a beginner and advanced series, the first of which began in November 2014.  Coursework applied archival principals and practices to the management and preservation of our valuable historical and contemporary municipal records.
Funded by NHPRC and partnering with the Massachusetts Archives, the Massachusetts Board of Library Commissioners, and the Massachusetts Town Clerk Association.
---
LEARN MORE about working with NEDCC to ensure the preservation of your most valued historic records.
WHAT MAKES NEDCC DIFFERENT?
DIRECT CONSULTATION:
There is no sales person between you and a professional conservator who can advise you on all aspects of your project.

EXPERIENCE:
NEDCC has preserved some of the nation's most significant historic materials.

SECURITY:
NEDCC's facility has sophisticated security and climate control systems.

PROFESSIONAL ETHICS:
NEDCC adheres to the Code of Ethics and Guidelines for Practice of the American Institute for Conservation.
NOW AVAILABLE:
Free Webinar Recording:
"Conservation Demystified"
What to expect when working with a conservator.