NEDCC is a nonprofit center for conservation and preservation of unique historical records and collections that require special care and handling.
RESOURCES:
Free Advice from Professionals
NEDCC's Preservation Services department provides free preservation advice to Town, Municipal, and County Clerks and other government record keepers. The Center's Directors of Paper, Photograph, and Book Conservation can also offer guidance on planning your conservation treatment project.
'PRESERVATION' vs. 'CONSERVATION' . . .
What's the Difference?
LEARN MORE HERE
Free Preservation Leaflets Relevant to Clerks' Offices
Preservation Training
Visit NEDCC's Current Training Programs List
Browse our current schedule to find programs that can help government record keepers preserve their valuable collections for the long term. (Examples of courses helpful to Clerks: Coping with Mold Outbreaks, Care and Handling of Paper-based Collections, Digitizing Collections, and Disaster Planning.)
WATCH - FREE Online Training Webinar for Clerks
Long-term Preservation for Early Record Books
Training on YouTube
NEDCC YouTube Channel
For training webinar recordings and brief video "Conservation Shorts" - tips and techniques for care of records and collections.
Preservation 101

NEDCC's free Preservation 101 Self-guided Course offers a basic introduction to preservation and includes texts and resources that can help local government record-keepers build an effective preservation program. Learn how to identify deteriorated materials, how to properly care for collections, and how to set priorities for preservation.
Assessments and Consultations
Preservation Needs Assessments, Collection-level Assessments, and Item-level Assessments
NEDCC Conservators and Preservation Specialists provide consultation services on many conservation and preservation issues, as well as several types of assessments to evaluate collections.
Funding Opportunities
A number of funding agencies make grants available for preservation assessments, conservation treatment and digitization. NEDCC can help plan and carry out these grant-funded activities, and can offer advice on developing proposals.
Attn: Massachusetts Cities and Towns - Learn more about Community Preservation Act funding for conservation and digitization of documents, maps, books, and other historic artifacts, as well as preservation needs assessments or collections assessments.
---
LEARN MORE ABOUT CONSERVATION TREATMENT OF HISTORIC RECORDS
- WATCH THE NEW VIDEO produced by Insider Magazine on the Conservation Treatment of an 1850s Town Record Book. Start to finish - see how a book conservation treament happens.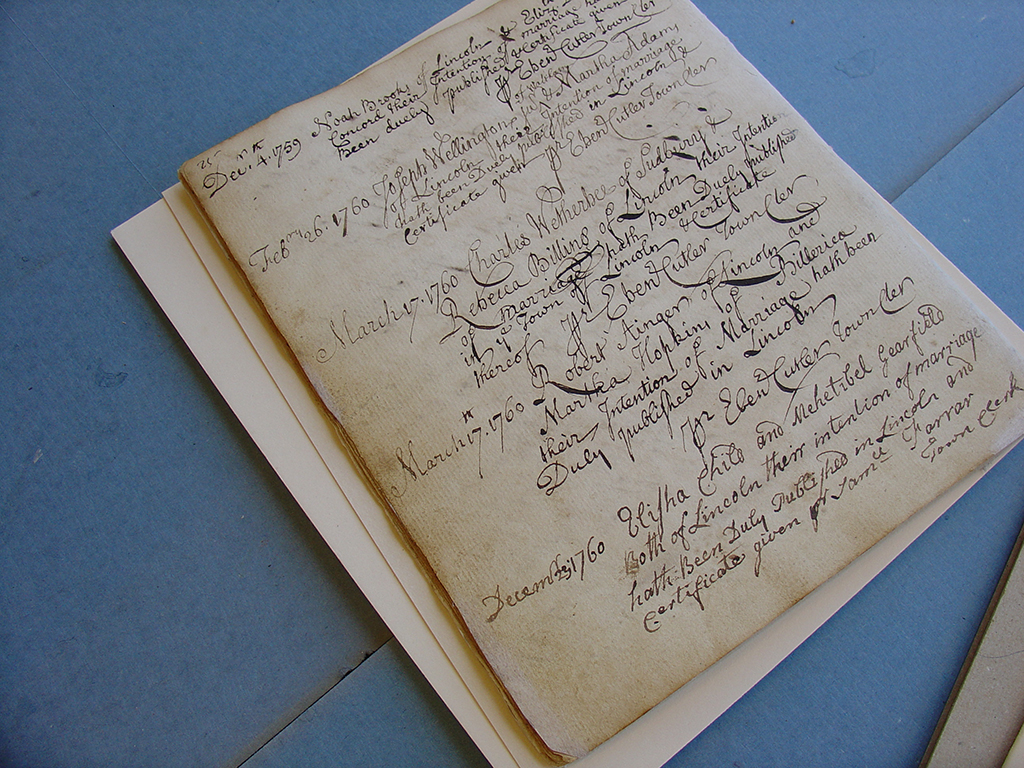 - READ THE NEDCC STORY about the successful conservation and digitization project for the town of Billerica, Massachusetts, funded by CPA.
Under Construction: The Great Deed of Billerica - Conservation Treatment, Digitization, and Rehousing

---
NOTE:
WHEN PLANNING A TREATMENT PROJECT FOR YOUR HISTORIC RECORDS
You should always discuss a conservation treatment plan with your conservator before proceeding, in order to:
consider and discuss the record book's value as a key historic artifact for your town
decide what your goals are for future access to the records
discuss what treatment options are appropriate or necessary for each item
fully understand what conservation treatment steps will be taken and why
learn about the qualifications and experience of the individual(s) who will be working on your material
be sure that your vendor provides full disclosure about products and methods used, and does not use proprietary processes or materials.
---
LEARN MORE about working with NEDCC to ensure the preservation of your most valued historic records.
What Makes NEDCC Different?


DIRECT CONSULTATION:
You will speak directly with a professional conservator or preservation specialist who can advise you on all aspects of your conservation treatment or preservation project.

EXPERIENCE:
Founded in 1973, NEDCC has conserved some of the nation's most significant historic materials.

SECURITY:
NEDCC's facility has sophisticated security and climate control systems.

PROFESSIONAL ETHICS:
NEDCC adheres to the Code of Ethics and Guidelines for Practice of the American Institute for Conservation, and a majority of the Center's conservators have gained "Professional Associate" or "Fellow" status through AIC | The American Institute for Conservation.
MEET OUR STAFF:
Get to know NEDCC's conservators, collections photographers, audio preservation engineers, and preservation specialists. See the NEDCC Staff List.
---
NEED A QUOTE?

Work with NEDCC to:
---
Other QUESTIONS?
Contact NEDCC Preservation Services at [email protected], or call 978.470.1010
Our specialists can get you an answer ASAP!