NEDCC recently conserved, digitized, and created a facsimile print of a 28-foot long, 1910 elevation and grade map of the Portland, Gray, and Lewiston, Maine Railroad for the Seashore Trolley Museum in Kennebunkport, Maine.

The map presented a unique challenge for the Center's conservators that was accomplished with coordinated team effort and thanks to the spacious NEDCC Paper Conservation Lab, which can accommodate work on very oversize objects.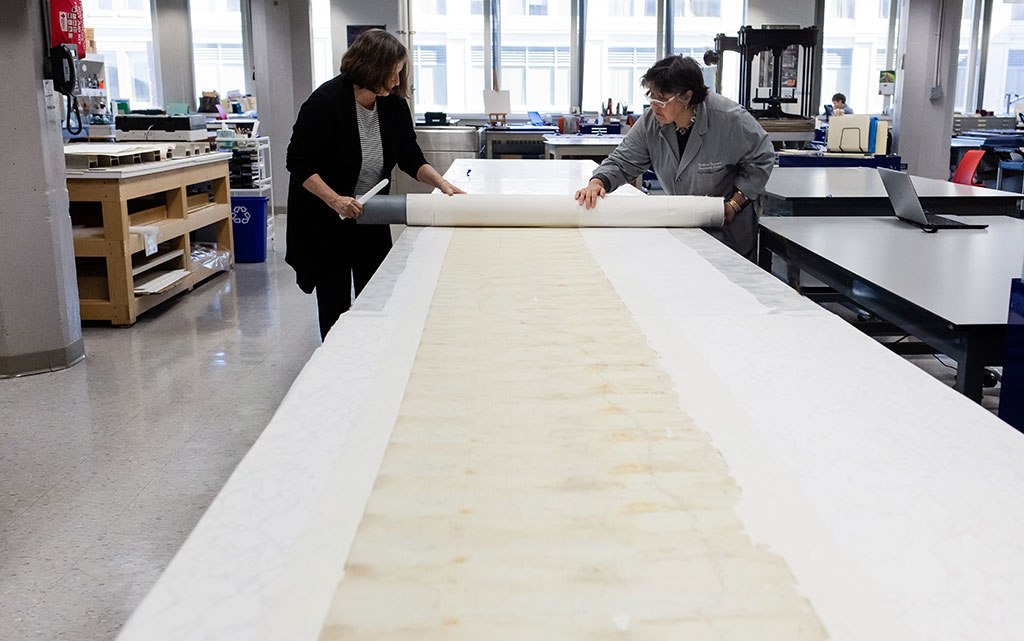 The elevation map was created by surveyors after they had completed their task of surveying the approximately thirty mile stretch between Auburn and Portland, Maine in 1907 and 1908, in preparation for acquiring property for a right-of-way for the construction of the 'high-speed' electric railway, an interurban, that would connect the cities of Auburn and Lewiston to Portland, Maine.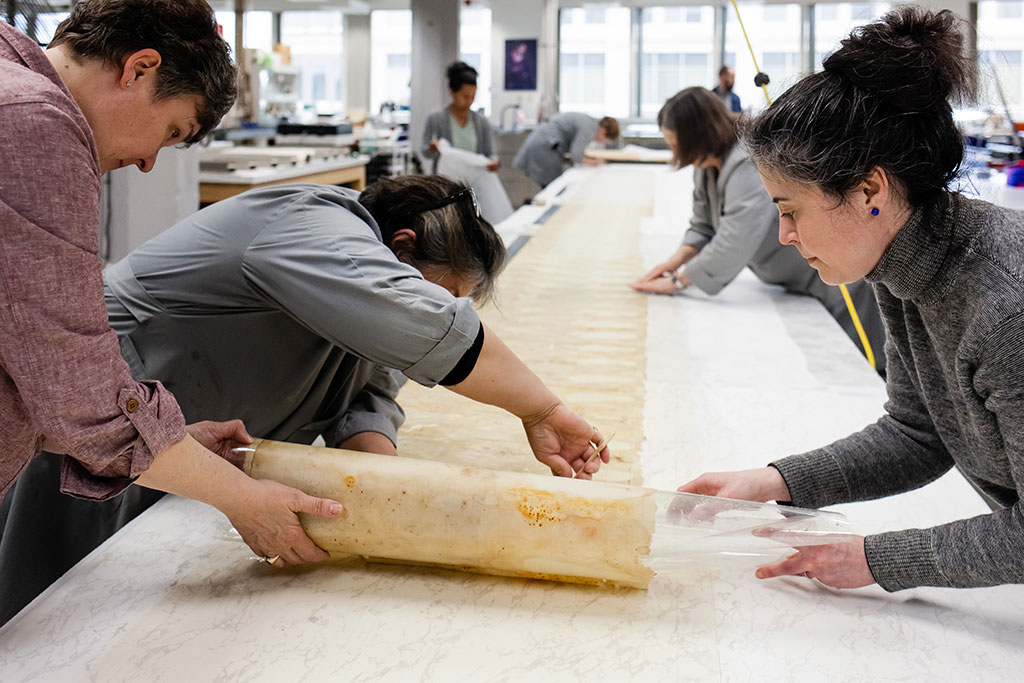 The map was in rough condition and had been rolled and partially flattened, which made initial measuring of the length of the map difficult. Sections of the map were detached and there were numerous small breaks and losses in the paper. The lab tables were first rearranged to accommodate the oversize map, then work began. The map required surface cleaning and aqueous treatment to clean the paper and reduce the water staining and acidic discoloration. Tears were mended and the map was lined and flattened.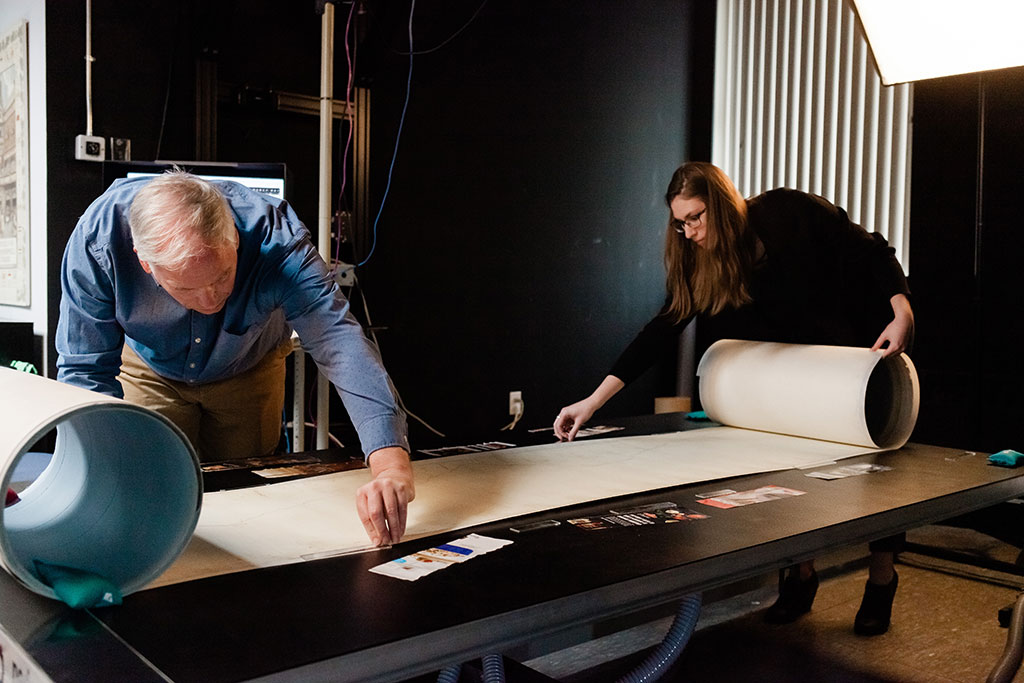 After conservation treatment, the map was digitized in NEDCC's Oversize Imaging Studio.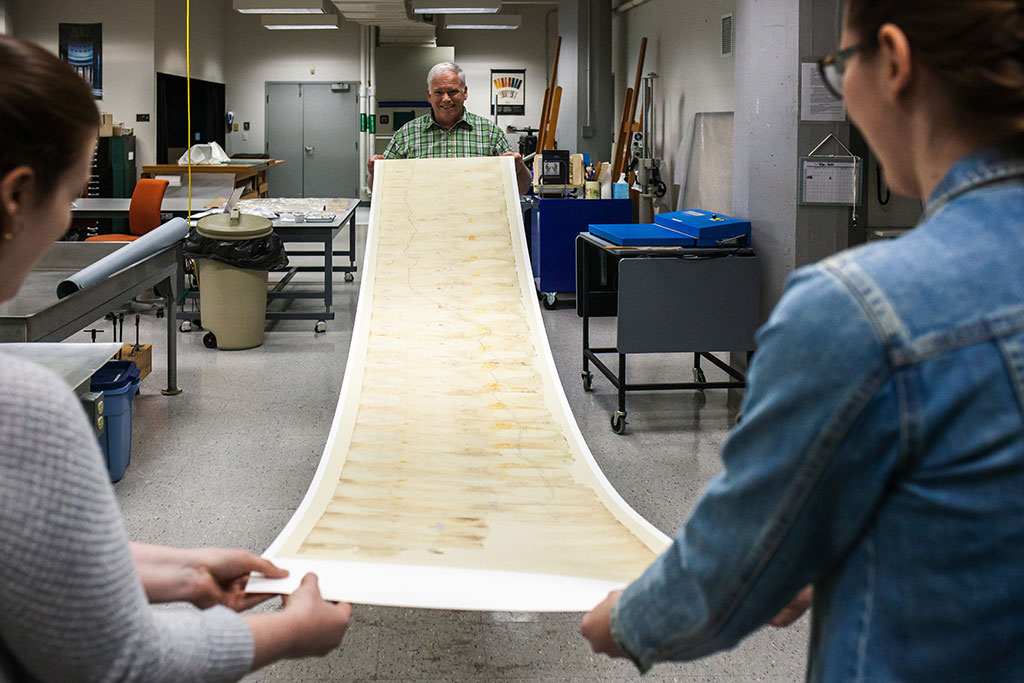 A high-quality facsimile print was created that can be exhibited at the museum, while the original is safely stored and protected.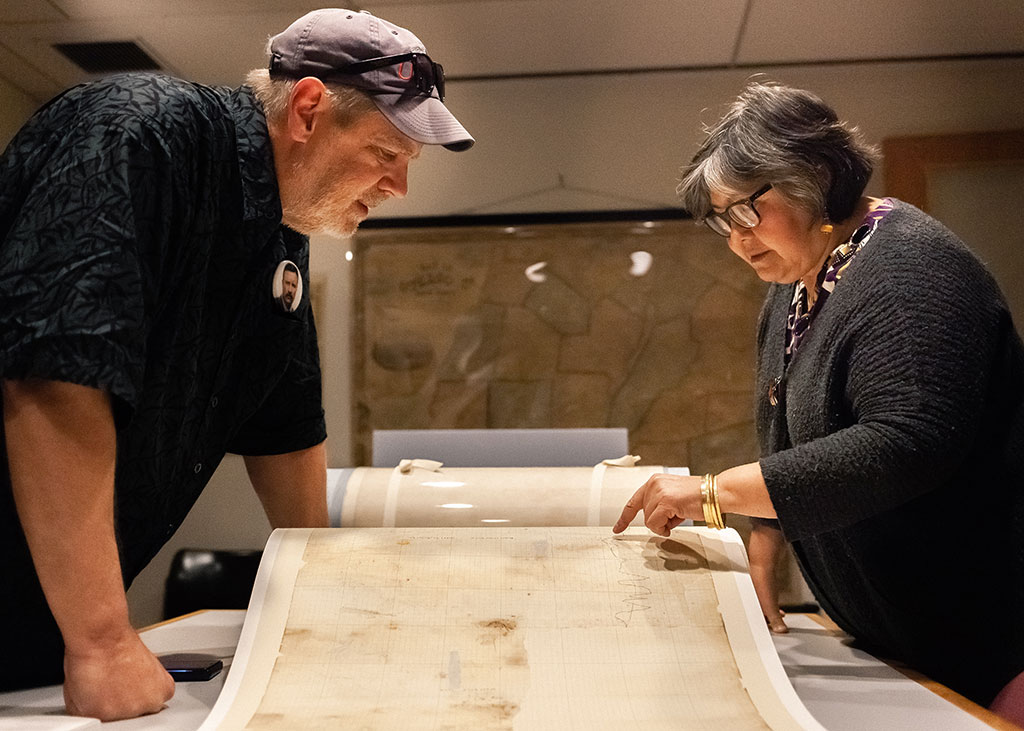 Senior Paper Conservator Luana Maekawa discusses the treatment of the map with Philip Morse, Narcissus Project Manager. Luana points out the clarity of a detail on the digital facsimile of the map which will be exhibited at the museum.
---
LEARN MORE:
View the Conservation Treatment and Digital Imaging Photo Gallery
The Seashore Trolley Museum has created a wonderful blog post outlining the history of the map and providing a step-by-step account of the map's conservation treatment, complete with NEDCC's photographs and captions. TO VIEW, visit the Narcissus 1912 Renovation Project blog.
While you are there, check out the other great blog posts about their work at the Museum, including Theodore Roosevelt's famous ride on the Narcissus, a luxury, high-speed, wooden electric interurban trolley. Great stuff!
---
The New England Electric Railway Historical Society is a non-profit organization operating as Seashore Trolley Museum in Kennebunkport, Maine.
Established in 1939, New England Electric Railway Historical Society shares powerful connections between the past and present, preserving knowledge, context, and resources for future generations by collecting, restoring, operating, and exhibiting significant public transit vehicles and artifacts.
(Photos of the treatment were provided by NEDCC's Collections Photographer, Tim Gurczak.)