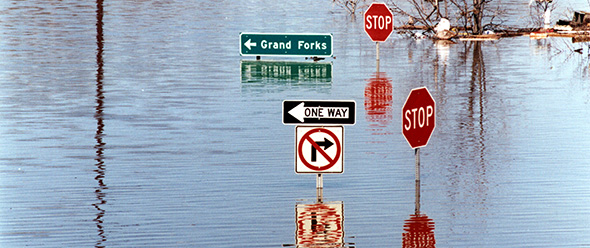 FEMA / Dave Saville
NEDCC staff members are available 24 hours a day, 7 days a week to provide telephone advice to institutions and individuals handling collection-related disasters. Information provided includes advice on drying wet collections and dealing with damage from fire, pests, and mold. This service does not normally include on-site assistance.
For emergency assistance contact NEDCC's toll-free collections emergency hotline at:
COLLECTIONS Emergency Hotline: (855) 245-8303

This free service is made possible in part by funding from the National Endowment for the Humanities.
Quick Reference: Disaster Recovery Service Providers
Some disasters — such as those involving contaminated water or large mold outbreaks — are too large or complex for an institution or individual to handle alone. In these instances, NEDCC recommends working with a disaster remediation company experienced in handling cultural heritage collections. The following companies have expertise in this area, and can be reached around the clock:
Belfor
(800) 856-3333
BMS Cat
(877) 730-1948
Polygon
(800) 422-6379
FURTHER READING ON DISASTER PLANNING AND RECOVERY FOR CULTURAL COLLECTIONS
American Institute for Conservation (AIC)
The American Institute for Conservation – National Heritage Responders (formerly AIC-CERT) responds to the needs of cultural institutions during emergencies and disasters through coordinated efforts with first responders, state agencies, vendors and the public. Volunteers can provide advice and referrals by phone. Requests for onsite assistance will be forwarded by the volunteer to the NHR Coordinator and Emergency Programs Coordinator for response.
Call NHR (202) 661-8068, available 24/7. 
Less urgent questions can also be answered by emailing info@conservation-us.org. 
NEDCC PRESERVATION LEAFLETS
NEDCC has created Preservation Leaflets covering a number of emergency management topics, such as emergency salvage of wet books and records, wet photographs, moldy books and paper; integrated pest management; and freezing wet books and records. Click here for a list of available leaflets.

---
NEDCC is grateful for support from the National Endowment for the Humanities for its training programs, outreach activities, and web resources.



(Any views, findings, conclusions or recommendations expressed in these resources do not necessarily represent those of the National Endowment for the Humanities.)