mold protection
---
1 Preventing Mold
There are a number of factors (including high temperature, stagnant air, and darkness) that influence the growth of mold in buildings and on collections, but the single most important factor in mold growth is the moisture content of the materials on which the mold is growing. If there is sufficient moisture, mold will become active (germinating and releasing spores that spread the mold further).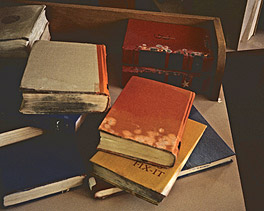 High moisture content is most often the result of high relative humidity or of the dampness or wetness of collections. Paper collections are hygroscopic, meaning, they absorb and release moisture and will come to equilibrium with the surrounding atmosphere. The best way to prevent mold growth is to control humidity levels in all areas where collections are stored, and to keep the temperature moderate. General cleanliness and good air circulation also reduce the risk of infestation, although -- in order to avoid spreading mold spores -- it is a good idea to limit air circulation once mold growth has occurred.
In the case of flood or other water damage, experience has shown that mold growth will occur within 48 to 72 hours if action is not taken to reduce the humidity and dry the materials, carpeting, and furnishings. Identify and correct water hazards in your building, such as damp basement walls, leaky roofs, dripping pipes, as quickly as possible to avoid the development of mold.
See Session 8: Emergency Preparedness for more information about water hazards and a sample Water Damage Prevention Checklist.