NEDCC and the Nishio Conservation Studio (NCS)
partner to conserve Asian artwork


NEDCC and the Nishio Conservation Studio (NCS) offer the highest level of quality care and professional conservation treatment of Japanese and Chinese art. Traditional techniques and craftsmanship are combined with modern scientific analysis and conservation procedures to merge Asian aesthetics with Western technology while conforming to the ethics and standards of practice of the American Institute for Conservation (AIC).
The Nishio Conservation Studio has conserved Asian painting collections for institutions and individuals across the United States since 1994. The Studio's highly qualified staff provides conservation treatment of Japanese and Chinese hanging scrolls and screen paintings. Every effort is made to promote and teach traditional hand skills while promoting the culture of "hyōgushi," or paper craftsmanship. NCS uses the highest quality materials imported from Japan, such as handmade papers, silk brocades, gold leaf, pigments, and adhesives. NCS clients include the Asian Art Museum of San Francisco, the Peabody Essex Museum, the Walters Art Gallery, and the Isabella Stewart Gardner Museum.
Services are available at both Northeast Document Conservation Center in Andover, MA and Nishio Conservation Studio in Washington, DC. include:
Conservation Treatment
Hanging scroll paintings and hand scrolls
Folding screens
Woodblock prints
Consultations and Surveys
Conservation examination with treatment proposal and cost estimate
Collection surveys with photographic documentation
Emergency service
Insurance claims
Lectures on Asian scrolls and folding screen paintings
Paper conservation treatment proposals for Asian works of art are written after consultation with the client. The choice of treatment depends not only on the condition of the work of art, but is also based on other factors that include its function and future use, display and storage conditions, aesthetic and historic content, and the predicted outcome of the treatment.
Treatment steps may include: surface cleaning to reduce superficial dirt; separation from harmful poor quality mounts; consolidation of flaking or deteriorating media; aqueous treatment to reduce deterioration products, discoloration, and stains; mending tears; filling areas of loss; and lining or remounting based on the object's functionality. A variety of archival storage solutions are also available, such as custom museum-quality matting and framing, or custom fitted and labeled clamshell enclosures.
Cosmetic and aesthetic treatments may include: stain reduction; filling losses with matching paper; and inpainting or toning areas of image loss. These non-essential treatment steps are performed only after thoroughly consulting with the client.

All treatments are carefully documented according to AIC Standards. Clients receive a written treatment report, including a comprehensive list of materials used, as well as 'before and after treatment' photo-documentation. 'During treatment' images are taken at the client's request. These records are the property of the client and should be regarded as part of the object's permanent record.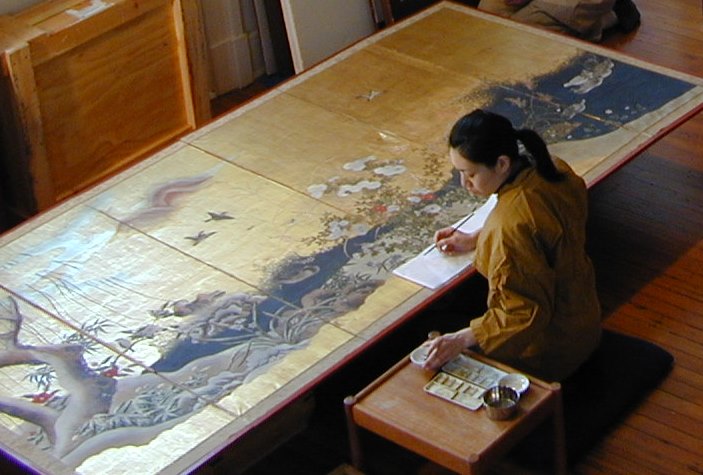 For information on obtaining a conservation treatment proposal
Conservation Services for Cultural Institutions
Conservation Services for Private and Family Collectors
For information on shipping:
Packing and shipping instructions are available here.
For information on NEDCC's Courier Services
NEDCC offers courier services on a negotiated basis for clients in the northeast corridor of the US. Learn More about NEDCC's Courier Services.
---
Follow NEDCC Stories
Stories about some of NEDCC's most interesting conservation, digitization, audio preservation, and other preservation projects. Read in-depth descriptions of the processes and view detailed photo galleries of collection materials from cultural institutions, large and small, across the nation. NEDCC Stories
QUESTIONS?
Contact:
Michael Lee, Director of Paper and Photograph Conservation
(978) 470-1010, ext. 228