IRENE Tested on Aluminum Discs
This week the IRENE lab has been conducting experiments with aluminum transcription discs. 
Invented in 1929, aluminum transcription discs were the first electrical instantaneous recordings. In a time when radio programming was performed live, transcription recording allowed stations to archive programs, delay broadcasts, or prove advertisements to sponsors.  By 1940 the format was obsolete, superseded by lacquer disc recording beginning in 1934.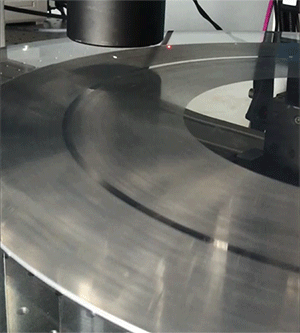 Instead of the time intensive process of cutting a wax disc, plating it, and pressing shellac, aluminum discs allowed sounds to be played back immediately after recording. Aluminum can't be cut like wax, however, so the discs were recorded by embossing the surface with a heavy recording head, leaving a relatively fragile groove that must be played back with a wooden or fiber stylus.
In the absence of supplies and expertise, this format has become a high preservation priority. Like we've mentioned with wax cylinders and lacquer discs, aluminum transcription discs benefit from the optical approach by eliminating the wear associated with traditional mechanical playback.
A Determined Point of View
Our pilot 'collection' (so far) is a single disc of student speeches from Amherst College. The date is  January 1941, eleven months before America will enter World War II. The topic of debate is American involvement in the war, something that was on the minds of all U.S. citizens. This young scholar's heartelt opinion on war received high marks from his speech teacher, and he was noted for his "determined point of view," although it seemed that he "walked around too much." (Who can blame him?!)
 
The recording was stored in a sleeve that included the transcript of the speech. (Click on the photos to enlarge.)
 Photos by Patrick Breen, NEDCC Photographer